Now that you know what Creative Bible Journaling is and why you'd want to do it, and you've chosen a Bible, and maybe even a few verses you'd like to start with, let's take a look at Supplies you can use for various types of Creative Bible Journaling.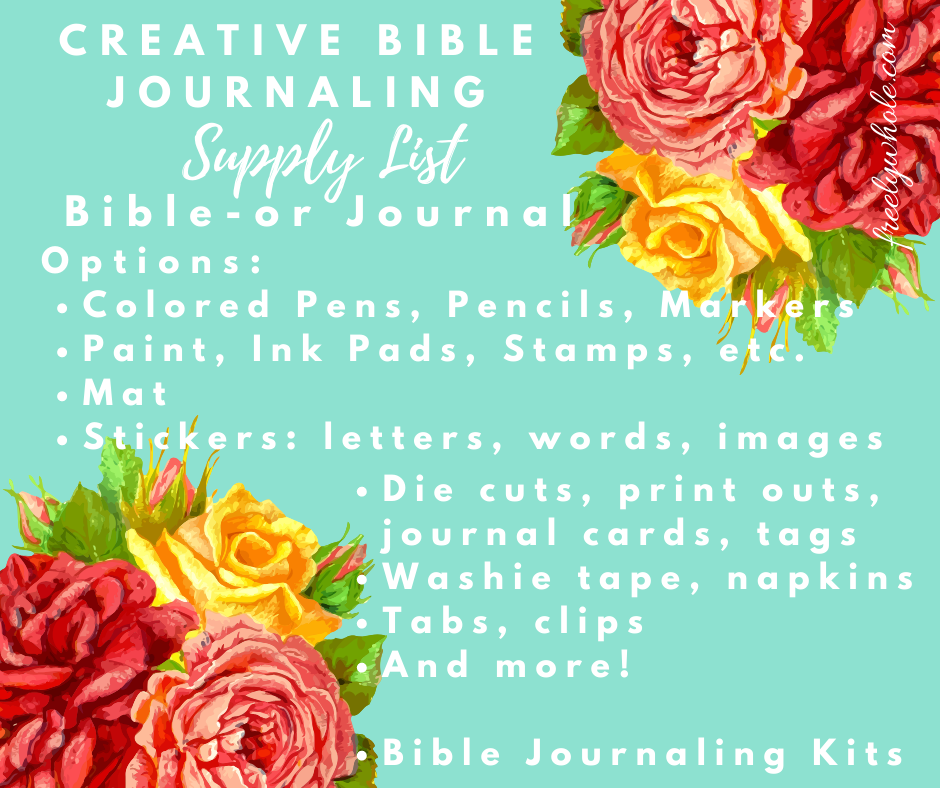 There are 4 main elements that I break Creative Bible Journaling down into. And a myriad of techniques to use for each. As always, we'll cover just a few, (and as always more is available in the 12 Month Creative Journey Subscription Membership!) I'll present some techniques that can be done with just simple, cheap things you already have at home, or can most likely pick up at the grocery store to get started. The other supplies can all be ordered online. Those 4 main elements are Background, Writing/Words, Images/Add-ons, and Tabs/Finishing Touches.
Before deciding what mediums and embellishments we are going to use in our Bibles, we need to consider three things, bleed through, warping, and bulk. All are very real parts of Creative Bible Journaling, especially if you are working in a regular Bible, and lead to trade-offs you will have to choose for yourself.
Bulk
If you are using a bound Bible, the spine is obviously the width it needs to be for the pages as they are. If you add a lot of extra bulk to your Bible, the pages won't close completely. How much "alligator mouth" is acceptable to you? If you prefer not too much, then you will want to use flatter elements on your pages. If you believe the-wider-the-better and dimension is your happy place, then you will feel more comfortable using thicker embellishments and layering techniques. If absolutely none is acceptable to you, you can still do Artistic Bible Journaling, but will just use pens, pencils, inks and paints directly on the page. I fall in the middle. I don't use thick foam tape, or rhinestones, or multiple layered embellishments, but I do add stickers and papers and die cuts and such.
Warping
Those inks and paints lead us to our 2nd and 3rd considerations. Wet products are going to warp your pages. It is a given. How wet they are will determine how much they warp them. Pens, colored pencils, distress crayons, blending and stamping inks will not cause warping. Watercolor paints will. Acrylic paints and liquid adhesives may, depending on how much you use and how thick they are. The weight of the pages of your closed Bible, (after the pages are dry,) will counteract the warping. The pages will flatten out, just not perfectly. I choose to use whatever products I want to, and deal with warping as it happens. Using as little water as is necessary. Using brands that tend to not be as liquid-y as others. And using a heat gun to dry pages, while holding them as flat as possible.
Bleed Through
The third consideration is bleed through. Because Bible pages are thin, most mediums are going to cause at least a little ghosting or shadowing on the reverse side. That usually isn't a problem. Some products cause significant bleed through, show heavily on the back side. Only you can determine if that bothers you or not. Some ways to deal with bleed through are: 1) Use only products that don't cause bleed through or ghosting, such as colored pencils with a light hand and embellishments you stick onto the page. 2) Use products that cause very little ghosting, choosing your inks (in pens and pads) carefully. 3) Prepare your pages to eliminate/minimize bleed through. (See next paragraph.) 4) Not worry about it. Deal with it creatively if/when you want to journal on the back side of the page.
Prepping: Many inks, markers, and paints may bleed or heavily ghost/shadow through to the other side of the page. To eliminate or at least minimize that you can prep your page, by sealing it, before applying those mediums. You prep the page by coating it with clear or white Gesso, or white acrylic paint. Obviously, you won't want to use the white if you aren't wanting to cover the Words of the Bible. The clear is a great option for that, if you are wanting to work in more than the margin. If you are only applying the products that would bleed through to the margins, you can use the white. Applying a thin layer and spreading it with a make-up wedge is a good way to prep. But before going through and prepping every page in your Bible, realize prepping can cause it's own problems. Not all products work well over gesso, and the gesso itself causes warping and wrinkling of the pages. I choose to only prep certain pages that I know bleed through will be bad on. Sometimes I just prep the backside when I'm ready to do it, to hide the bleed through that is already there from the other side.
Supplies
All of that being said, you may be thinking, "Why not just use colored pencils? They seem ideal." It's true that they are one of the few that have no effect on bulk, warping, or bleed through, but you may want to stretch beyond that. But coloring a background, drawing a picture, underlining, boxing in, or writing verses, indeed can all be done with colored pencils. Whether you have Crayola brand, or nicer Prismacolor Premiers (which I recommend), or professional colored pencils. Yes, you can start with those.
For colored pens, I like Signo 207s, and Pilot G2s, and Sakura Pigma Microns.
For markers, Faber-Castell Pitt Artist Pens, including calligraphy, Tim Holtz Distress Markers. I don't use or recommend alcohol markers much, such as Sharpies or Copics. Bleed through is great with those. But you may want to use Copics or other good blendable alcohol markers to color other embellishments you make, before adhering them to the page.
As you already know, I'm not an artist, so my supplies are not expert quality (nor kid level,) but rather mid-range, small sets, chosen from highly recommended ones by "real" artists. For watercolors, I like my Sakura Koi 24 Field Sketch set. I also like the Prima Confections colors. Kuretake Gansai Tambi are always highly recommended. And of course, you can start with those grocery stores watercolors, if that's what you have. They aren't well pigmented or look as nice, but you aren't creating a masterpiece here.
Mat
One more thing you'll notice in the list is a Mat. That may be the one thing that I say is a must, regardless of the techniques you plan to use, to protect your pages as you work. You put it between the page you are working on and the pages under it, to keep them from getting marked or wet, and make sure any bleed through doesn't go through more than just to the back of the page. It also provides a sturdier surface for you to be working on in the open book. Options range from a clear cutting mat from Dollar Tree, cut in half. I use this as a nice firm surface, especially if I am stamping directly onto the Bible page. Illustrated Faith makes a mat especially for Bible Journaling, that has a ruler for helping you line things up straight and get good spacing. For when I'm doing inking or painting, I like using a Replacement Mat, made for the Tim Holtz Glass Media Mat, but a perfect surface for this. It is a non-stick, heat resistant mat, that is great for when you are blending inks or even as a paint palette, and also works perfectly here. You could also use a Ranger Craft Mat, and cut it down to a good size. You want your mat a little larger on all sides that your Bible, so it fits in and overhangs the pages, for protection.
For additional supplies, I tend to mostly use what I already have on hand in my craft supplies stash and random things I see and like, usually on sale or clearance. But there are some companies that make supplies specifically for Creative Bible Journaling. Illustrated Faith is a popular one. American Crafts has Bible Journaling and Creative Devotions lines. Some others: Faber-Castell has a beginners Bible Journaling Kit. Creative You can be found even at Walmart. And many stamp, sticker and die cut companies have faith related supplies.
Watch the video to see these supplies, and learn more about using them.
So gather your supplies, and let's get started!
Living Coram Deo!
SDG!
~ Liberty