This is the third month and project in our 12 Months of Wholeness through Creativity. We are making Encouragement Cards. Lift your spirits through the creativity of making them. Lift someone else's when you send it to them.
Let's jump right in. The Supplies List is in the previous post here. Today we'll be making a very simple card, that takes very few supplies. The process video is posted below. The next post (video) for this month's project will be a "fancier" card, made with a few more supplies/ tools and techniques.
It will probably be most helpful for you to watch the video below first, to understand the process and "whys", then refer to the steps written here as you make your own, for measurements and such.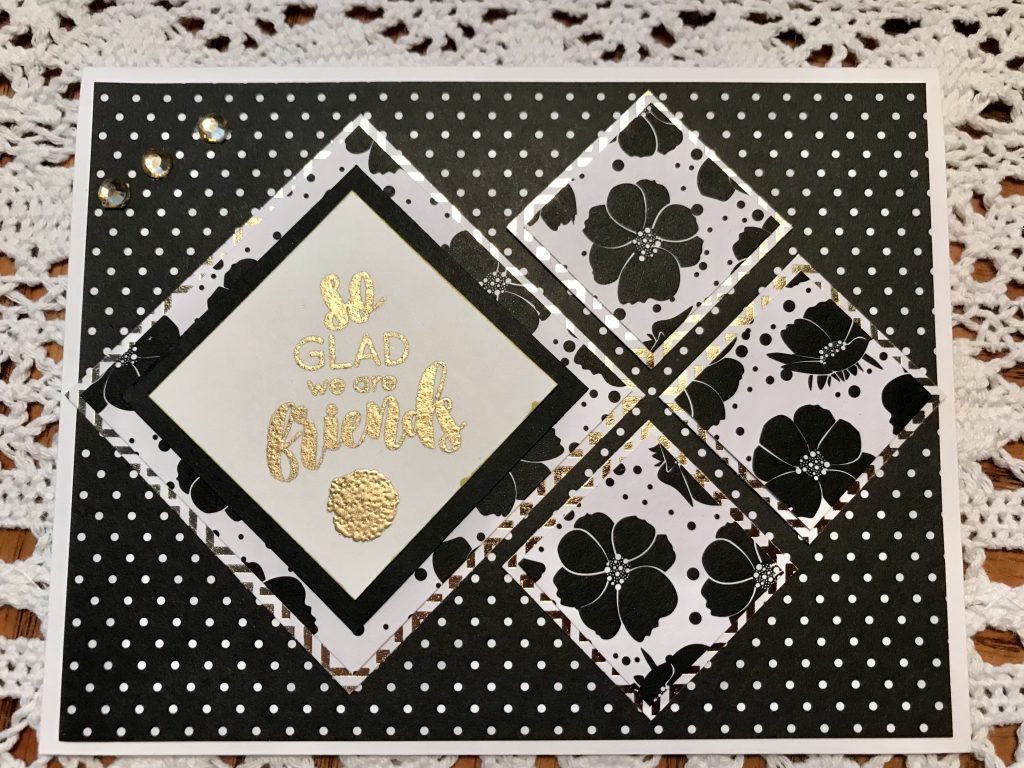 Cut and Score Card base
This card is an A2 size, 5.5″ x 4.25″. That is a good standard size for the best use of your supplies, and also a size that mails easily with no added postage.
Cut heavyweight (110#), neutral color 8.5″x11″ cardstock in half the short way, creating 2 pieces (2 card bases,) each 8.5″ X 5.5″
Put the 8.5″ side along the top of the Scoreboard, and score at 4.25″, fold and burnish. (Do both pieces the same, but you will only need one per card.)
Paper trimmer/cutter and Score board info here.
Cut Patterned Paper/ Cardstock for layers
Play around with coordinating papers/cardstock and choose a background, a bottom mat color, and a designed paper for your top layers. (Mine: DCWV Modern Metallic)
Cut background patterned paper: 5.25″ x 4″ (Mine is black with small white polka dots.)
Cut matting squares: 1 @ 2.5″ sq. 3 @ 1.25″ sq. (Mine are gold foil design on white.)
Cut patterned squares: 1 @ 2 3/8″ sq., 3 @ 1 1/8″ sq. Be sure your design is small enough to look pleasing on the small squares. Make your cuts at appropriate places to show the design you want. (Mine are white with black flowers.)
Cut mat for sentiment: 2″ sq. (Mine is solid black.)
Cut square for stamping sentiment on, white or other neutral: 1.75″ sq.
Stamp your sentiments
Choose the stamp sentiment(s) you want, from what is available to you.
In the video you are shown various ways you can stamp your sentiment. The one shown on the outside of this card is stamped in VersaMark ink and heat embossed with Ranger Princess Gold Embossing Powder. It says: So Glad We are Friends (Hampton Art SCO746)
The trickiest part of stamping this will be getting it angled and centered correctly on your square turned to diamond.
Ink the edge of sentiment square, if desired. (Art C metallic brush pen)
Stamp the sentiment inside your card (if you want one.) Mine says: You Amaze Me. From the same stamp set as the one on the outside. Ink is Ranger Archival Black.
Adhere Papers
I find it easiest, for this card, to first adhere the large matting square and the small one to the right of it, onto the background paper. Find your mid-point along the sides of the background paper, and line the side points of the diamonds up to that. (The points will very slightly hang off, if you use any spacing at all. That's ok!)
Adhere the other 2 matting squares.
Adhere the design pattern squares on top of each, leaving equal border all around each.
Adhere sentiment square to its matting square, and that to the large square.
Adhere small strip of paper to decorate the inside of the card, if desired.
The adhesive I used in the card (and my favorite) is the Scotch ATG (Advanced Tape Glider) 1/4″. Other permanent tape runners like this could be used. They have wider tape.
Add Other Embellishments, if desired
On this card, I added 3 gold gems (Hobby Lobby). Other options could be flat back pearls, or twine/ribbon and/or a bow.
Send your card to Encourage Someone
Add your own greetings and signature, and it's ready to go!
Your card will fit in a standard A2 envelope, or you can make one on your Envelope Punch Board.
Be sure to take a picture before sending it though, and post it on our 12 Months of Wholeness through Creativity Facebook group!
Interested in learning more? There are hundreds of ways to make cards, and thousands when you consider variations of techniques, not to mention an unending array of layouts and paper options. I'd love to teach you much more, and advanced techniques! Contact me about the 12 Month Creative Journey Subscription Membership!