Month 1 Part 2 – 12 Months of Wholeness through Creativity
Let's move on to actually putting our book together, so we can begin using it!
You've got all your supplies gathered together.
You've watched the first video, and chosen your cover and all your pages, and put them in order.
The next step is to cut any papers that need it
Covers: Cut to 8.5 to 9″ tall by 11.5 to 12″ wide. Which measurements you use will depend on how much space you want between your page edges and your cover. Because you will have several pages folded together, their edges will stick out beyond a cover cut the same size. (More explanation in video below.)
Pages: Cut or fold to 8.5×11″ or smaller.

8.5×11″ or smaller papers don't need cut at all.
Larger than 8.5×11″ papers need to be cut or folded or both.

If 12×12″ you can:

Cut to 8.5×11″. (I don't. I prefer to use folds.)
Cut 3.5″ off the bottom or top, and fold 1″ or more over on one of the sides, or fold in both sides to make total width 11″ or less.
If the paper doesn't not have a definite directional pattern, cut 1″ (or more) off one side, and fold up 3.5″ (or more) from the bottom.
Other options shown on video below.

If larger than 12×12″, do the same, scaling it to make final dimensions 8.5×11″ or smaller.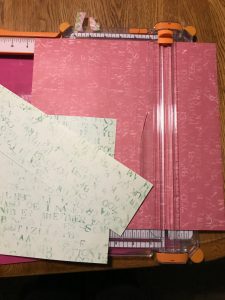 Fold all papers in half
For your cardstock cover, and any other thicker pages, you will want to score them with a scoring board (or ruler and blunt tip object.) See video below.
If they are thin paper like printer or notebook paper or doilies, you probably don't have to "score" them, to get a clean, crisp fold.
Fold each paper in half, and burnish individually (press down to get them crisp and flat–with a bone folder, or other blunt edged object.)
Stack in the order you want in your book.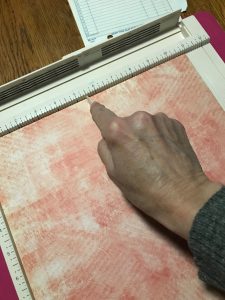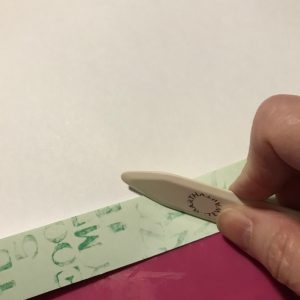 Before binding
If you folded up horizontal pockets, and you want to cut/punch a design in them, do it now while the pages are loose. Also glue the outer edges of the pockets.
Other design elements, gluing and decorating can be done after pages are bound.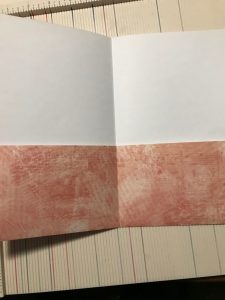 Completing Your Cover
If you are only using 1 thickness of card stock for your cover, you have nothing more to do after folding and burnishing it.
For a 2 layer, sturdier cover, you need to fasten the layers together, with glue or double sided tape. Advantages, disadvantages, problems/issues to avoid are all more space than I prefer to take here. See video below.
Binding Your Journal
For this book, we're doing a 3-hole pamphlet stitch binding.
Before starting, cut a piece of strong, thick thread between 2.5-3 times the height of your book, and thread your large needle with it, leaving a long tail.
Put your cover over your signature (all pages stacked together.)

Make sure all pages are stacked as you want them, including where shorter pages are placed, and that center folds and edges are lined up. You can clip them together, if you want.

Press the folds of your signature into the fold of an open phone book (or other inconsequential thick book,) holding the middle open.
With your paper piercer (or other sharp pointed object,) poke a hole through all pages in the center of the fold. Be sure to go through to a thickness of your "poker", not just the tip, on the outside pages.
Make 2 other holes through the center fold of your book, approximately 1-1.5″ from the ends.

I don't measure for hole placement in these 1 signature books, I just "eye-ball" it. If you must, you sure can.

Push your threaded needle through all layers of the center hole.

You can push the needle from the inside of your book to the outside, which will leave your tails inside the book. Do this if you want the tails hidden (or inside).
Or start from the outside and go to the inside, which will leave your tails outside the book. Do this if you want the tails to show, and to possibly add embellishments to the ends.

Bring your threaded needle back through the top holes. (From outside to inside, based on starting from inside to out.)

Be sure to leave one tail on the inside, about 1/2 the height of the book.
Pull your thread taught, in a straight manner, not putting pressure on the holes.

Take your threaded needle through the bottom holes. Again, be sure your thread is taught, but not straining your holes and tearing them.
Bring your threaded needle back through the center hole, (to the inside.)

Come up on the opposite side of the thread running down the middle, from your other tail.

Again, tighten your thread at all places. Then tie a double/surgeon's knot.

Leave your tails long or trim them to about 1/2″.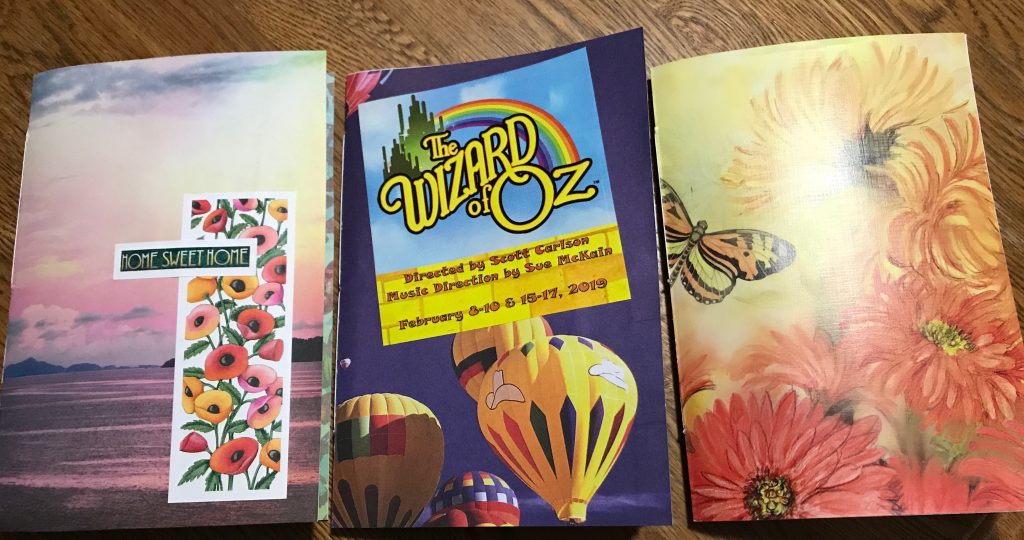 Your book is now done–maybe!
You've just made your first handmade, bound book!
Your book is now ready for writing in, adding embellishments, tucks, pockets, decorations, pictures.
This book is uniquely yours! It's filled with papers, colors, designs you love. And you will continue to fill it with things that are meaningful to you, whether that is things you love, or things you're working through and journaling, or even just your grocery and to-do lists.
Enjoy!
Interested in learning more? Learning other methods of making covers and binding books? Adding more signatures? Simple ways to take your books up a notch with embellishments and decorations? Contact me about the 12 Month Creative Journey Subscription Membership!
Be sure to take pictures of your Journal and post them in our 12 Month of Wholeness through Creativity Facebook group.