Month 1 — 12 Months of Wholeness through Creativity
Let's start at the very beginning. A very good place to start.
This is the logical place, in my thinking, to begin. A new year. A new decade. A new outlook. New hope. All these point to a Journal, to me. This Freedom & Simplicity™ project will get your creative juices flowing. The creative process of making it will aid in stress-reduction, healing, and enjoyment. And the Journal itself will provide a place for you to, well, journal, which is also very healing for the soul.
This is your book, to use for whatever you desire. Whether that be Journaling about your Word of the Year, Scripture journaling, prayer journaling, art journaling, your diary, goals, bucket list, planner, events, holidays, check lists, grocery lists, wardrobe, music composition, … The list is endless. Use it for whatever you love and are diving into this year!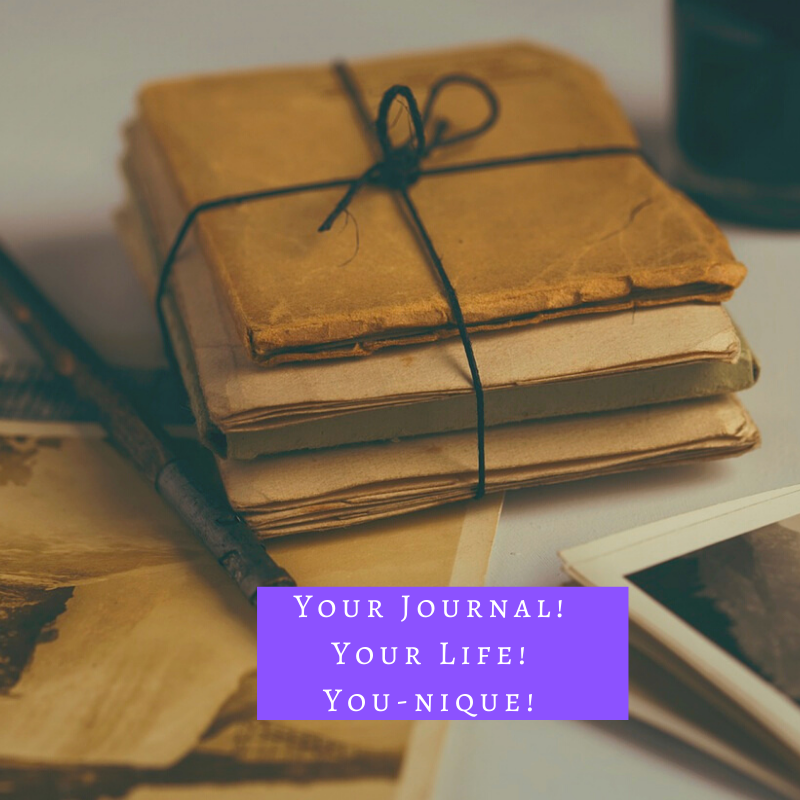 Although you could just buy a blank journal to write in, even a pretty covered one that you like, it would not unlock the additional benefits of the creativity of making a unique, eclectic, artisan journal. This is an easy, Freedom & Simplicity™ project that you can do easily and quickly, and then put as much extra as you want into it.
The posts on this website and in our Facebook group this month will cover the basics to make a Handmade Artisan Journal. The 12 Months of Wholeness through Creativity program will also include a Membership Subscription program, (watch for announcement and link) providing more details and many extras and add-ons, to take your projects even further, for a full year of creative projects that will bring healing and wholeness, as well as expand your creativity in many easy areas. The Subscription will also include related projects, for even further expansion.
What we're making!
This picture shows artisan Journals in some of my styles. But you will make yours to match your style. The basic journal/book taught on this blog and in the Facebook group will be one signature, up to 64 pages, with a softcover and no spine, created with a simple pamphlet stitch. We will go deeper into decorating and embellishments, other cover styles, more signatures and more in the Membership Subscription.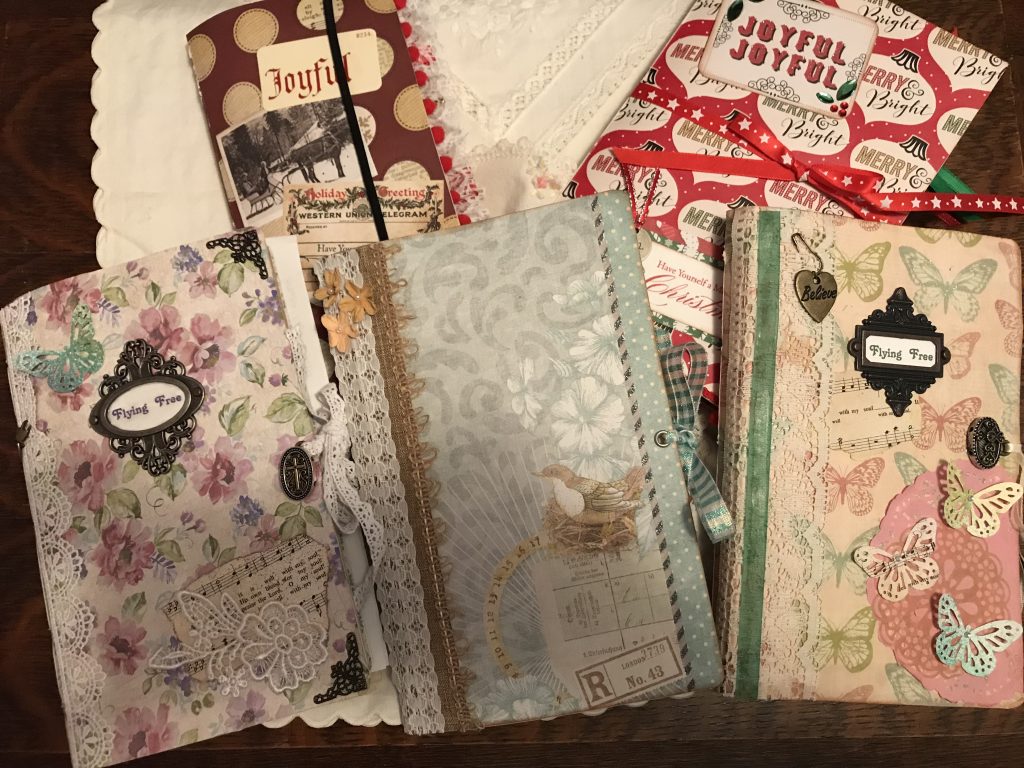 What you need
There are few tools and supplies you actually need to make an Artisan Journal. There are some tools and supplies that will make things much easier and quicker to do. There are many tools that may or may not fit your style.
The bare bones are paper (think outside the box,) something to cut paper with, something to attach other papers or other things to the pages, and something to hold the pages together. The image below lists these basics. Below that you'll find a few other helpful tips.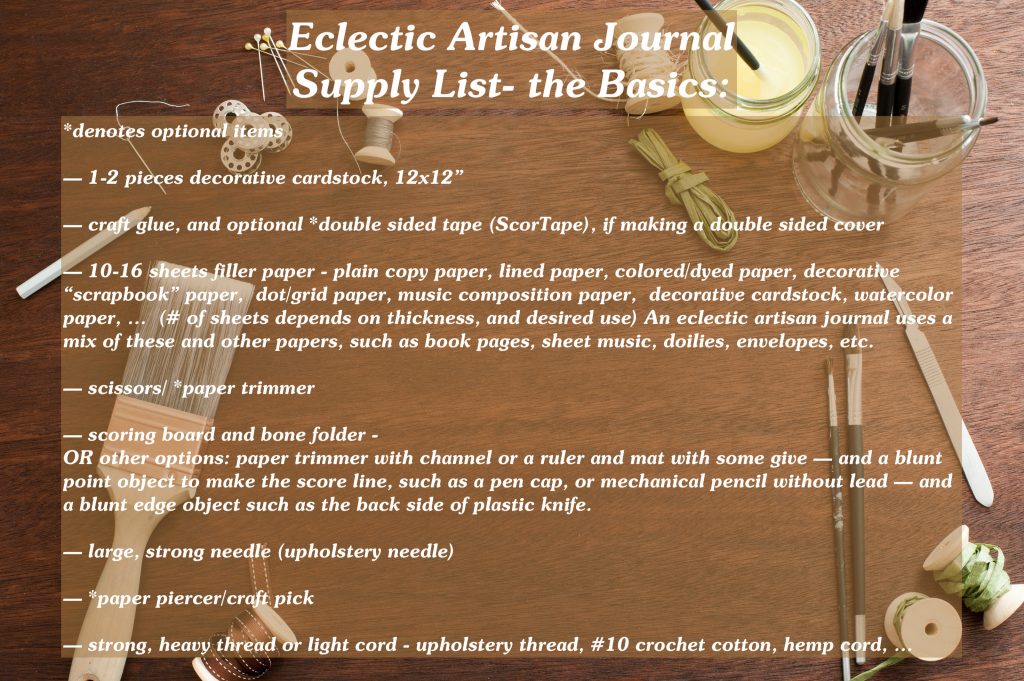 My Suggestions for Paper
• Decorative (12×12") card stock (2-4 sheets) — for cover and a couple pages
• 4-6 sheets Decorative/scrapbook paper (12×12″ or 8.5×11″)
• 3-6 sheets plain, dyed, or lined paper
• 3-6 sheets various sized and types of other papers
• * Plain neutral card stock (2-3 sheets, for ephemera) — optional for the Basic book
Pick a theme and colors, and papers that go together–or not!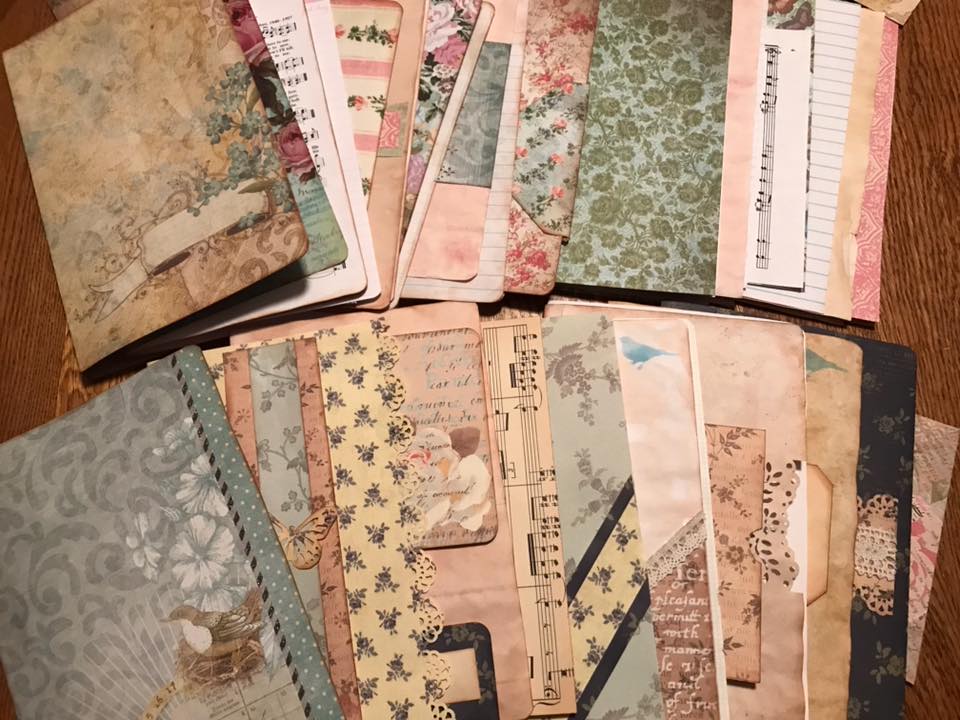 Other Supplies
You'll find a Paper Trimmer invaluable, if you do more paper crafting than just making this book, for getting straight even cuts of the proper size. A sliding blade trimmer can be the most versatile, all around trimmer, but blades do dull and need to be changed relatively often. A guillotine trimmer or rotary trimmer have blades that remain sharp better, can give cleaner cuts, but aren't always as good for more intricate measurements. Links are to inexpensive ones I've used and like (except my inexpensive rotary trimmer is a different brand that has been discontinued.) Remember, if you are cutting 12″ paper, you'll want a trimmer (and score board below) that handles 12″ paper. (My Tim Holtz Guillotine is my fave. But it only does 8.5″ paper and cuts 6″ or less.)
A Score Board with bone folder is for scoring and creasing the paper, so your folds don't crack or wrinkle the paper. It is not necessary for thin papers, but very helpful for cardstock and heavier papers, for a clean fold. A dedicated score board is the most convenient and accurate. My fave is discontinued, but this one is similar and a brand I trust. I purchased this trimmer and scoreboard in one, hoping it would be at least a good travel option. It's not a favorite of mine, as it doesn't produce as clean and straight cuts or good scores. It just isn't very sturdy, compared to what else I use. But it could be a good, inexpensive starter option for you. It's better than scissors and ruler/blunt object options. Also, some sliding blade trimmers also come with a scoring "blade", I've found those to not be as accurate, but an option if you won't be using it much.
A basic Craft glue, and the one most paper crafters really love.
Craft pick, and my favorite thread for book binding.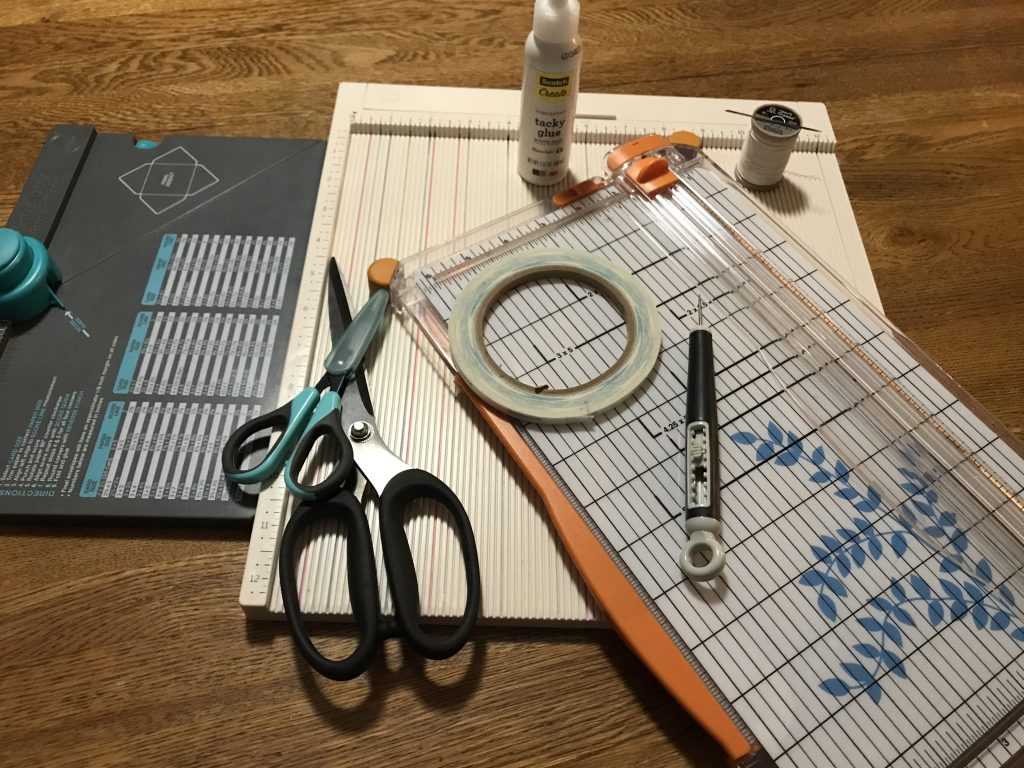 Watch this video for great tips and explanations for choosing your papers!
Now, go gather your supplies! I'll be back very soon with the instructions for making this Eclectic Artisan Journal!