As I said in my last post, I'm really excited to share this month's project for our 12 Month's of Wholeness through Creativity. May's project is super quick and easy. This Mini Purse will make a perfect Mother's Day gift (for your mom, a friend, or YOU) or mini "May Basket" or Just Because gift. It will hold a Lip Balm or Essential Oil roller, Mini Journal, Ghiradelli square, and/or Gift Card. (Probably not ALL of those, but a couple anyhow.)
I'll be showing you how to make 2 different versions. The more "Traditional" purse is made with the score board. The Satchel-style purse is made on the Envelope Punch Board.
Here's your Supply List: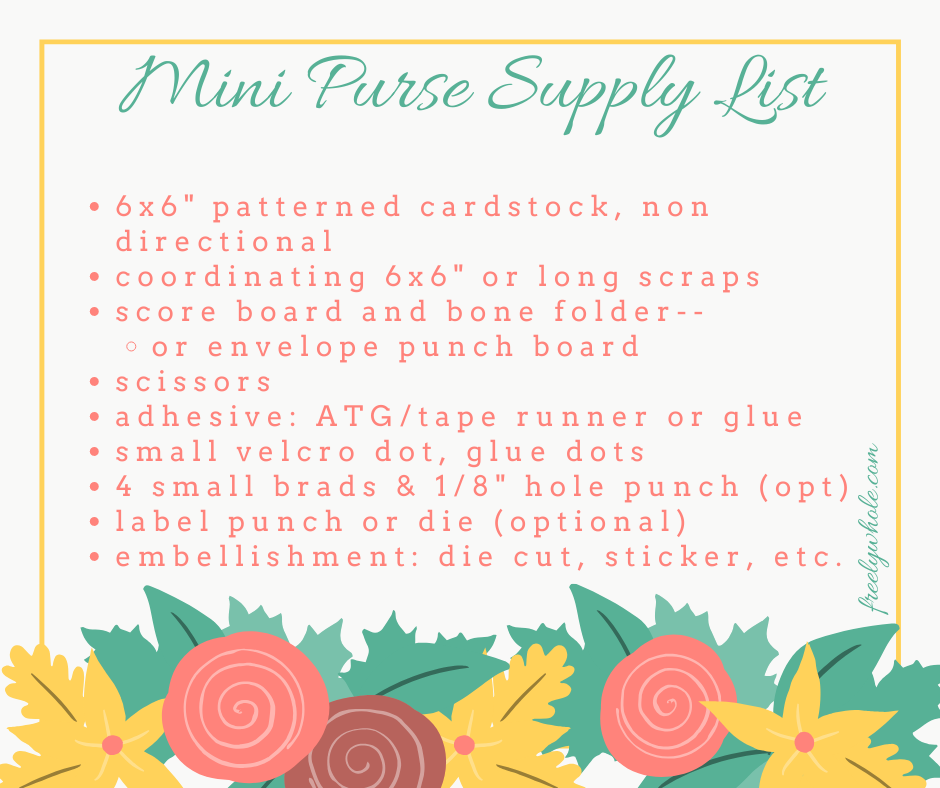 If you are cutting a 12×12″ cardstock down to 6×6″, be sure it has a very small pattern. If your pattern has a direction to it, it will be upside down on the back of your purse, thus the "non-directional".
For the Traditional Purse, your patterned cardstock can be single sided. Your 2nd piece should be coordinating, and you won't need a full 6×6″ sheet. You will use a score board and bone folder, (don't need the Punch Board.) I recommend the brads, which you'll also need a 1/8" hole punch with, that I forgot to put on the supply list. You could probably use your poky tool/paper piercer, but it wouldn't be as neat or flexible. You could use glue dots, but again, it wouldn't have the flexibility, so I don't recommend it. You will need the label punch/die, or you could just cut a rectangle or hand-cut shape.
If you are making the Satchel-style purse, you will use the Envelope Punch Board. You will want a double sided cardstock, with the backside a coordinating pattern/color. Your extra piece could then just be a 3/8″x8.5″ coordinating strip for a single handle, if you want. In which case you wouldn't need the brads, (or just 2 of them). Glue dots actually do work well here. You could use 4 gems for decoration, or nothing. You also don't need the label punch for this one.
To make a matching Mini Journal, you will need the rest of your second sheet of patterned cardstock and 2 sheets of plain or other writing paper, and your "poky tool", carpet needle, and heavy thread that you used in January's project.
Here's your video for the supplies:
Get your supplies ready! I'm off to edit our instructional video, so you can make this project yet today, if you want to use it for a May basket!