Summertime is finally here, and it's time to PLAY!!
So far our monthly projects, for 12 Months of Wholeness through Creativity, have been pretty structured, but this summer we're going to venture out, do some playing and get messy. Letting go of expectations and perfections, and just experimenting, trying new things, and practicing techniques is how we grow in creativity in our craft. And, it's how we reduce everyday stress and heal from trauma through creativity. So let's jump in! As always, no artistic skill needed.
If you play everyday, good things will happen to you artistically and mentally.

Dina Wakley
This month's project is Technique Tags! We'll be learning and practicing new techniques and ones that I've introduced but not demoed in previous months' projects.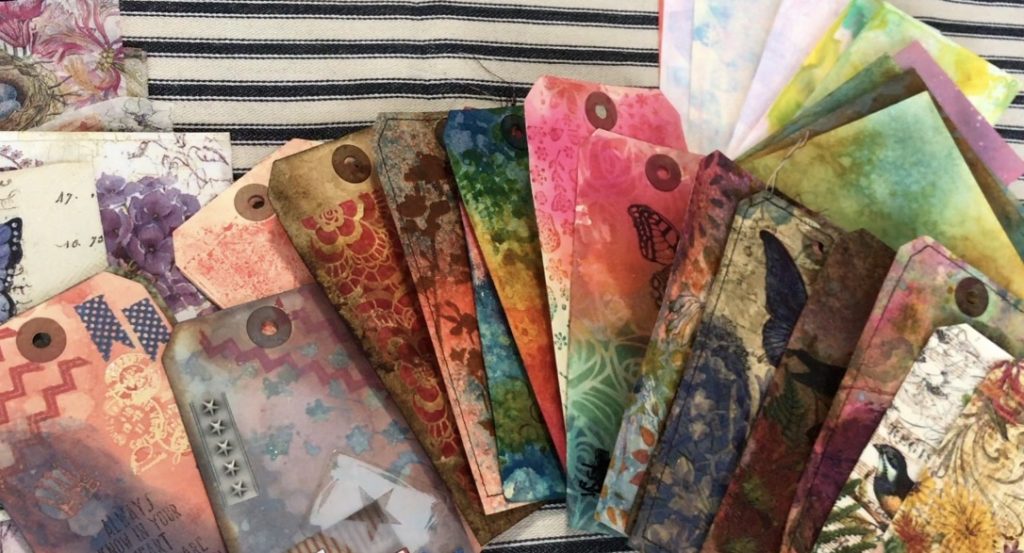 There are many uses for these tags, including journaling on the backs and putting in pockets or tuck spots in your Artisan Journal that you made in January. Or writing a prayer or your understanding of the verses you study in your Artistic Bible Journaling (that we learned in month 4), and using them as a "tip in" or "clip in", in your Journal Bible. You can also use them as a Bookmark, or layered on a card or in an art journal, or even die cut or cut up for other projects. Because you'll be practicing techniques, you'll have more than you need for just your Technique Tag Book.
One thing that I recommend you do is put tags together demonstrating the various techniques you learn to do, with a description on the back of what products you used and how you did the technique. The tags can be simply put together with a book ring through the holes at the top, or bound together as a book. Disc bound books are one way I love to put together books of individual pages. I love that I can add pages, whenever and wherever in the book that I want. This is the type of binding used in the ARC and Happy Planner systems, and the system I use for many of my journals and organizational books. Another fun and easy way to bind them together is Tab binding.
So, enough chit chat. Let's gather materials to play, get messy, experiment, have fun, and learn some new techniques. Each technique will have it's own supplies, but of course all of them will have basic, blank Tags in common, as the base for all our techniques.
Purchased/Precut Tags:
Ranger brand. Especially Dylusions, or Distress. Also Inkssentials. Made specifically for use with ink blending and other mixed media techniques. #8 is a great size for most techniques.
Other brands of tags. May or may not be as heavyweight/sturdy or work as well for various techniques. Try what you have.
Or Other Options, cardstock cut to size:
Cardstock–regular office supply, 110#. Manila File Folders. Pros: cheap, some techniques the quality doesn't matter. Cons: Not very heavyweight, doesn't take wet techniques well.
Bristol Smooth (Canson or Strathmore are easy to get), Mixed Media Heavystock or this, Heavy weight Watercolor Cardstock. Pros: Heavy weight, made for good blending or water techniques, white color for when you don't want a manila background. Cons: Must be cut to size.
Bottom line–try whatever you have around. Get what you can, if you don't like the results on what you have! I've listed ones I have and like.
With any of the non-precut tags:
Paper trimmer, scissors
Corner tag cutter (optional) (mine is different in video, but no longer available. I like this brand and have other hand punches by them.)
Hole punch (1/4″) Love this!
Hole reinforcers (optional)
Technique #1 — Napkin Collage
Supplies:
Gather your supplies. Then watch the video to get started. Part 2, with more techniques, to come soon. Sorry for the few places where the video below isn't completely in frame, but it doesn't affect following the instruction.
Be sure to join our social group at MeWe, (or Facebook,) if you haven't yet, to share your 12 Months projects, and ask questions, and chit chat about creativity! If you share on Instagram, hashtag #freelywhole #freelywholecreative and #12monthsproject and tag me, @freelywhole