Let Freedom Ring! Can you believe we are in the second half of 2020? It's been a crazy ride so far. Let's pray things start turning around. Have you had enough of the stress and concern? It's time to shake it off and PLAY!
We are continuing our Summertime Funtime theme this month for our 7th project in our 12 Months of Wholeness through Creativity. This project is solely for de-stressing, soul care. For learning to let it go. It will help get the creative juices flowing. It will increase your creativity. It will give you practice that is needed to grow in your craft. We're going to do some brain rewiring. It will set you free!!
No artistic skill necessary! No rules–other than just do it! Some of you are tapped into your creative self. Some of you have to dig her out of the rut she's been in. So here are the non-rules for this month's project.
Give yourself permission to play! Go back to when you were a child, and you just played with paper and colors. You didn't worry about how it was going to turn out, nor stress over what to add next. You just played. Perhaps you came to stress over your creations early in life and have to go way back to get to that carefree kid. Find her!
Find your wonder! You never know if something is going to work unless you try it. What happens if I do this? Or add this? Try it! Follow your gut. It's not like you are going to screw up your life. It's just paper! Do overs fully allowed!
Make ugly art! Be willing to accept the bad as well as the good. No shaming of yourself. You can not get better at anything, unless you take the chance to do poorly. Don't over think it! And don't beat yourself up. Negativity is the enemy of creativity.
If you play everyday good things will happen to you artistically and mentally.

Dina Wakley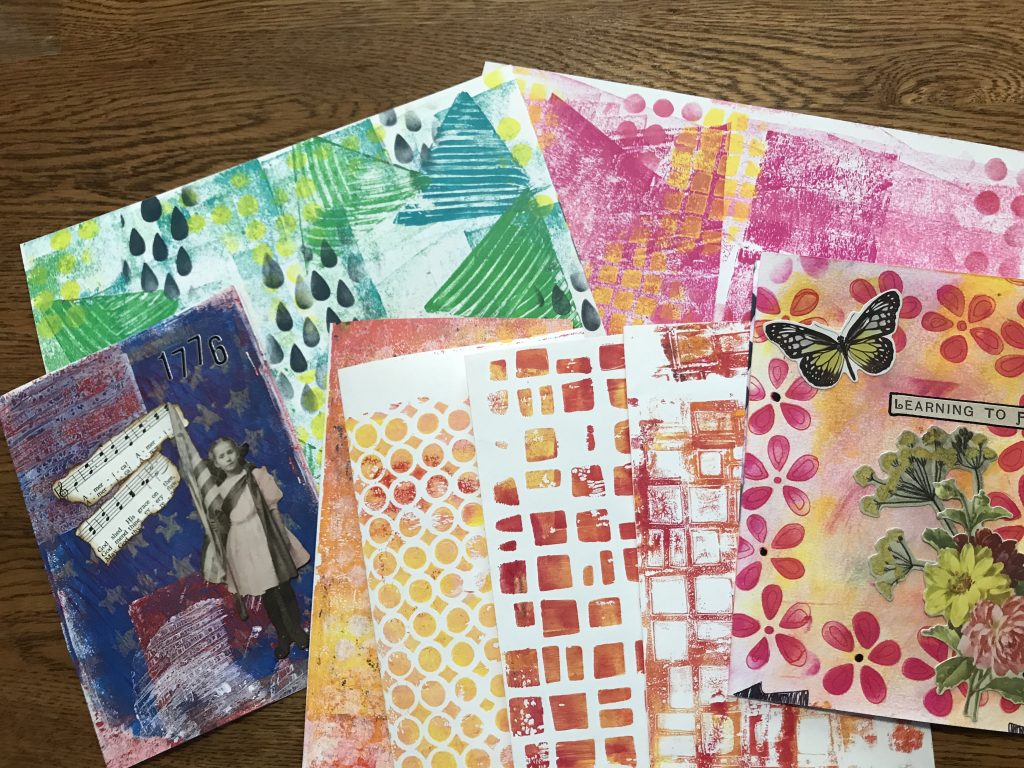 So, time to gather supplies and then we'll get started on… Monoprinting! It's simple, yet vast. Use what you have or can get, and what you enjoy using. Perhaps you have a toolbox full of things you enjoy using. Perhaps you've been saving to get something special to create with. Perhaps you need to pinch pennies and make do with what you can find at home and find cheap. Perhaps you have things sitting around that you haven't used for a long time, that need to find a new purpose.
The answer for each of these supply lists is Yes, try it! You'll find that different supplies react differently. You'll find you enjoy working with certain things better. I tell you my favorites, but you need to use what you have and find your favorites. There are only 4 basic supplies, but many variations and endless options. Paper, Acrylic Paint, a Gel Plate, and a Hard Rubber Brayer.
Supplies
Paper: If it's paper, you can probably use it (unless it's glossy.) Mixed media stock (my fave), cardstock (I recommend the light-medium weight), copy paper (not my favorite), old scrapbook paper (that you don't like the design of), cardboard (from cereal boxes to packing boxes), tissue paper, junk mail, kid's homework, envelopes, old books/music, … Pre-made TN/ Art Journal.
Acrylic Paint: Whatever you have or can get. Brands don't have to match. But some acrylic paint is quite fluid (liquid-y) others heavy bodied (thick), some not highly pigmented (usually cheap craft acrylics) others very concentrated, some translucent others opaque, some quick drying others have a long "open" time (dry slowly). From Apple Barrel to Golden brands. You can pay $1 a bottle or $20 tube. I most enjoy working with Ranger brand acrylics–mostly Dylusions, some Distress, (and getting a few Dina Wakley/Illustrated Faith/or Pebeo that are more heavy body). 2-3 warm colors, 2-3 cool colors, and 2-3 neutrals is a good start. Get colors you like and that look like they'd go well together with their "family" (cool/warm).
Gel Plate: You can DIY if you want to look up the directions, but I recommend purchasing a permanent, squishy gel plate, Gel Press and Gelli Arts are a couple brands. I'm happy with my Gel Press brand plates. A basic 5×7″ can be got at Hobby Lobby with your 40% off coupon, very inexpensively. Other sizes and shapes available.
Applicators: With the Gel plate, you use a hard rubber Brayer. I like my Ranger/Dylusions narrow 2 1/4″ one best for TN size work. A wider "normal size" can be purchased inexpensively at Hobby Lobby with your coupon, or Gel Press brand. Blending tool and foam pads, that we've been using for ink blending. (You'll need separate pads.) Cosmetic wedges (I've only used the ones from Walmart; they work fine.) Maybe even paint brushes, paint pens (esp. black/white), perhaps fine line bottles.
Texture Tools: These can be texture tools purchased specifically for mono printing, or objects found around the house, or you can make them. Stencils are a tool I use love and use on almost every page. I have many brands I've picked up at random places, but I love many of my Ranger ones, by Dylusions, Tim Holtz, and Dina Wakley. Masks are the "inner guts" of stencils, meaning the cut out part. You can make your own masks, buy masks (many times they come with stencils), or use found objects. Start looking around your home for objects that could make textures in your print: (wide tooth) comb, toilet paper tube, shelf liner, plastic canvas, clear plastic (hard) packaging or old credit cards/room keys (to cut shapes or "combs" out of), bubble wrap, bottles and lids, feathers, artificial flowers, any flat "shapes", like even die cuts. Rubber stamps can be used. (They are the one item you want to clean after using in acrylic paint. The video shows how.)
You can find many of these things at your local big box craft store or perhaps even Walmart. If you purchase through Amazon, please use any of my links to get to the site (whether you purchase that item or not) to support this website at no added cost to you.
Prep Step: This project is made in/as a Traveler's Notebook Art Journal. You can buy a TN size Journal, or you can make one, following our directions for an Artisan Journal, in our January project. Use 4-8 (or any number) sheets of paper (listed above). A traditional size TN insert is 4.33″x8.25″, so I cut my papers 8.75×8.25″, and fold and burnish at 4 3/8 (just a bit larger than 4.33, but easier to cut and score). Use the 3-hole pamphlet stitch to bind together. Many of the TN covers are made to hold this size. Cahier size is 5″x8.25″. Some hold 4.375×8″, some 5×7″. If you have a TN cover, make your booklet the appropriate size. (We'll take a look at TN covers later.) (Of course, you can buy any size pre-made Art Journal, if you prefer.)
If you prefer to create on loose papers, that's your choice. It's your journal! You may want to get some practice in before working in your "journal" anyhow. You can bind the ones you choose, together later. Either way, have extra loose/scratch paper on hand, to roll off excess paint and such.
Watch this Introduction & Supplies video, then gather your supplies, and go on to the next post and video to get started in our playground!