Time to continue on with our Tags & Techniques this month. More play, experimenting, and FUN! We are continuing with our project for our 6th month in 12 Months of Wholeness through Creativity, where we're making beauty from ashes, putting pieces together to help create peace in our lives. No art skill necessary. If you haven't already read and watched Part 1, go back to the beginning of this month's project.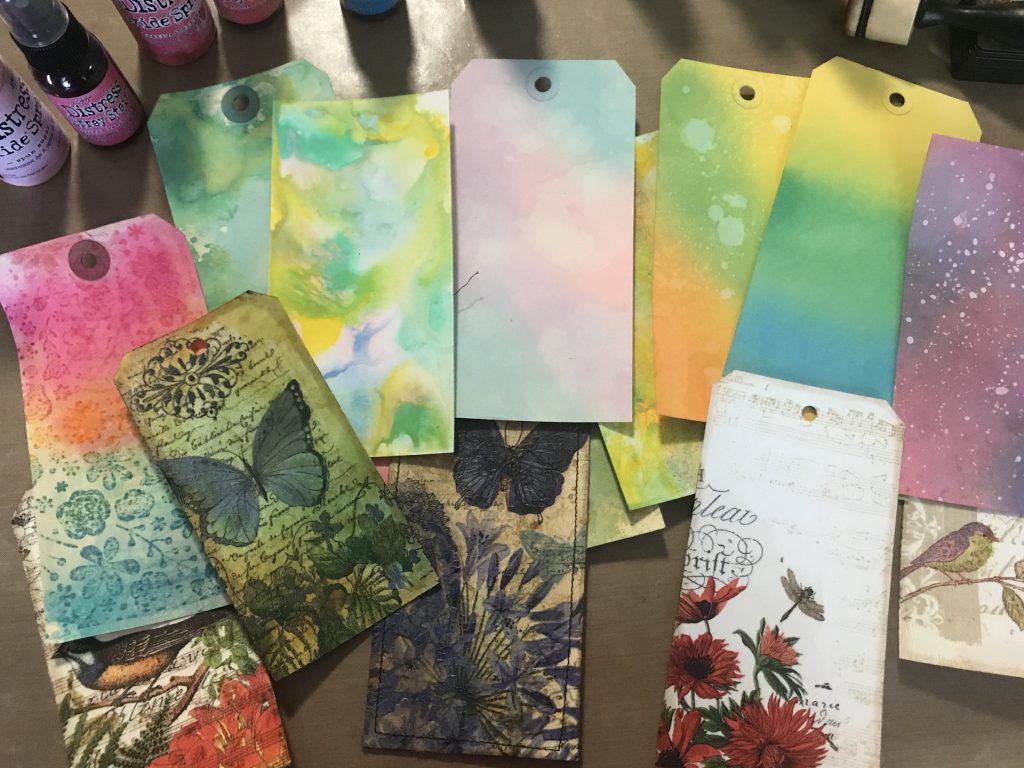 You still need Tag bases, as discussed in Part 1, but for Part 2 here, we're going to be working with Distress Inks and Distress Oxide Inks. You will need a few colors that go well together of one or the other (or both) or another water-reactive, dye ink. You will also need a craft mat to work on. A laminated piece of cardstock might work if you don't have another slick craft mat good for blending. A smooth, glass cutting board could be another option. A spray bottle of water is also needed; again I like the Distress brand one, for the control over the spray. Blending foams and handles and/or blending brushes finish out the supplies for these techniques. (My blending brushes are from Taylored Expressions, not available on Amazon.) Everything except the blending brushes should be available at your local "big box" craft store, such as Hobby Lobby, Michael's, or JoAnn's, and with a coupon or on sale.
Watch the video below to learn to do ink blending and ink smooshing. Then start playing and having fun with more of this month's techniques!
P.S. In the video I mention a bit about color theory. When speaking about cool and warm colors, I deviate from traditional divisions, and mention the way Dyan Reavley classifies her paint colors. But, traditionally, warms are ROY (Red, Orange, Yellow,) the colors of heat, the sunshine. Think, Red is the hot on your water faucet. Cools are G BIV (Greens, Blues, Violets,) the colors of the cool waters, grasses, and pretty purple flowers. Think, Blue is the cold on your water faucet.
I want to see what you've done! Be sure to join our social group at MeWe, (or Facebook,) if you haven't yet, to share your 12 Months projects, and ask questions, and chit chat about creativity! If you share on Instagram, hashtag #freelywhole #freelywholecreative and #12monthsproject and tag me, @freelywhole