Sometimes our creating isn't just for our own soul care, but to also bring joy to others. "With the same comfort you've received, comfort others."
The thing with creating not exclusively for our own joy/ soul care/ therapy is that we can then get pulled back into overthinking, over-functioning, overwhelm and stress. The opposite of the reasons we are creating. But we want things to be "nice" and "perfect" for others. What to do? What to do?
One solution is to keep your creativity for your own expression, not for giving nice handcrafted gifts. But many of us want to share this joy in what we do with others.
Here are some tips, to help keep your joy when creating for others.
Cardmaking is a great way to use your creativity for others. Cards are small enough to not be overwhelming, yet leave much room for so many different techniques and styles. You can, of course, make full, large gifts for others. Handcrafted gifts are the best! IF such doesn't stress you out, put you in time crunches, and steal your joy. So for today's tips, we'll stick with cardmaking. Simple joys!
1) Use techniques that you know well and love to do. This isn't the time to try a new challenge. Save that for your "play time", when you are creating just to create.
2) When you are in creativity mode, mass make. This gives you cards to have on hand, when you need one but your mo-jo isn't there. There are several ways to do this.
a) Make several similar cards, using the same techniques, but changing up the colors, or images, or sentiment, to make each unique and individualized.
b) If your recipients don't know and see each other, you can even make each exactly alike.
c) Leave off the sentiment until you are ready to give it, if the card is appropriate for various occasions.
d) When you're in a creative mode, make several sympathy and thank you cards to have on hand, even if you do many of the same style. We need these at times we can't plan ahead for, and it's usually more stressful to do when "I need this now!"
e) Birthdays and anniversaries, and even weddings, are events you know are coming. You can think of a style for specific persons, but still work on them ahead, when the creative juices are flowing—instead of at the last minute, when you're probably stressed rather than creative anyhow. (Yeah, this is my own tip I seem to never follow.)
f) Compartmentalize your mass making. Such as in one sitting 1) make only backgrounds of a certain technique, and make a bunch of them. Stencil, die cut, ink blend, alcohol inks. Just play with the technique, and you'll have several great starters done. 2) Only stamp sentiments and cut them all out. 3) Even only cut and score card bases—either "normal" sizes, or specialty designs you enjoy. Cut mat layers in colors you use often, also. 4) Only put together focal points—the "pretty" parts of your cards. That may be die cutting, or coloring images, or layer stamping, or even putting clusters of ephemera together.
Many of these things can be done even when you don't have a lot of mojo, especially the compartmentalized creating. You can feel like ink blending or using alcohol inks, but don't have any idea what you're going to use them for. Make a bunch of backgrounds; you may even end up using them to die cut into images! Perhaps you know you have birthdays coming up, so you can die cut or stamp many sentiments or images. And that's always true for Thank Yous and Sympathy cards. You can even do these things pretty mindlessly, when you're not even up to "creating". You may do all of these in different creating sessions, and then have all the individual elements pre-done! Then you just have to pull them together quickly, to make a unique card.
Keep these tips at your ready, to pull out when you want to create but don't know what do; when you aren't feeling very creative; to keep your joy in creating for others while preventing future stress.
Below are 3 cards I needed to make this past week. Each done with different techniques. Each with what I was up for at the time.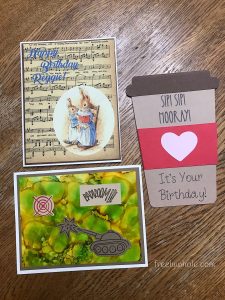 3 is not the most birthday cards I need in one week. But this is one of those weeks that it is. And for some reason, I chose to make each card with totally different techniques. Yet, each was quick and simple—once I figured out my designs.
Card #1 is computer designed, printed out, added to another layer and adhered to a card base. It is Lullaby music background, rabbit and mama image, and text layered into one print out. My mojo was not for pulling out a bunch of supplies, so computer it was.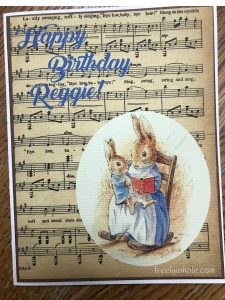 Card #2 is a coffee cup shaped card, designed, cut out and written on by my Cricut machine, then the pieces adhered together. Again, computer designed, but I let my Cricut do the work of creating card base, focal point and even write the sentiments. I only had to adhere it all together.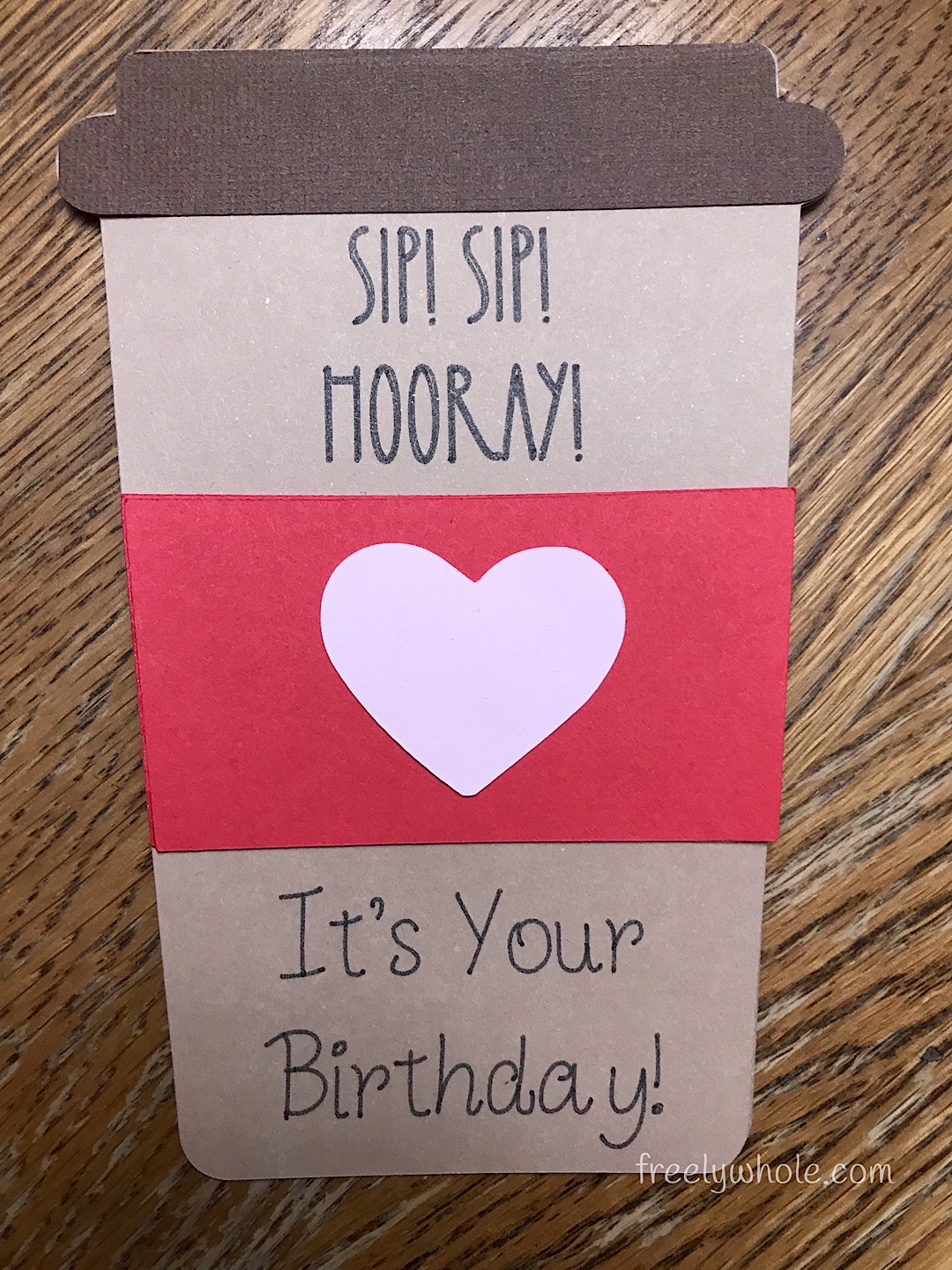 Card #3 is stamped and die cut "Soldier Boy" pieces adhered to a camo style alcohol inked background. Having a variety of alcohol inked backgrounds at the ready, made in mass during a play time, is a great timesaver. Stamped and die cut the images, and Badaboom!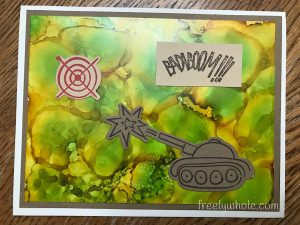 Go make Beauty from Ashes! And enJOY!
We want to see what you make! Subscribe and comment here. Join one of my Creative Communities a share a picture there: Freely Whole Creative Community at MeWe or Facebook or follow me on Instagram, and tag me #freelywhole
Living Coram Deo
SDG!
~ Liberty
Subscribe to my email list in the sidebar and get notifications of future posts on this website.
Join me on Facebook, Like & Follow my Freely Whole public page.
To share Soul Care Creativity, join my Freely Whole Creative Community at MeWe or Facebook,
and Follow FreelyWhole on Instagram and tag me in your creations #freelywhole