This is what a prayer and rest retreat looks like for me. ❤️🙏🏻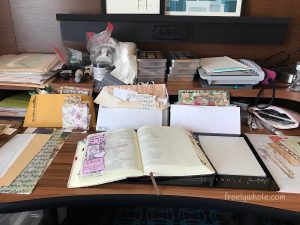 When life has been non-stop, stressful extras, for over a year, and mama's two travel events this spring have been nixed, she eventually needs a bit of a break. Some time alone with God, for rest and reflection, are just the fix.
My car is full. My room is full. Not with clothing, toiletries, food, and daily needs, (though they all came in one small backpack.) But with tools of the trade. With pieces that will help me create peace. With ashes to turn into beauty. With sparks for Creativity. With the stuff of soul care.
I read. I pray. I express my concerns. My fears. My gratitude. My love. My praise. My worship. To Him.
Through color. Through texture. Through images. Through words. Through Creativity. That He has given me. For me to use, to give. He brings comfort, and I am filled to comfort others with the same comfort I've received.
I surround myself with my Creations. I take them in. The words—His Words, given to me and reflected back to Him. I see the colors of His rainbow. I feel the textures through my unique fingerprints. I hear the sounds of my song, giving Him worship. I smell the scents of His creation, as they fill my room through the plant oils He's given for our help and health. I taste the freshness of the plants He's given for our physical sustenance.
He fills me. My cup overflows. He brings recharged Life. He brings new Hopes. He brings clarity to the path of this Journey called Life.
He brings rest and restoration that only He can. In the midst of a world filled with chaos. He restores my soul.
God is within her, she will not fail!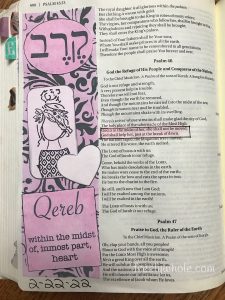 Living Coram Deo
SDG!
~ Liberty
Subscribe to my email list in the sidebar and get notifications of future posts on this website.
Join me on Facebook, Like & Follow my Freely Whole public page.
To share Soul Care Creativity, join my Freely Whole Creative Community at MeWe or Facebook,
and Follow FreelyWhole on Instagram and tag me in your creations #freelywhole