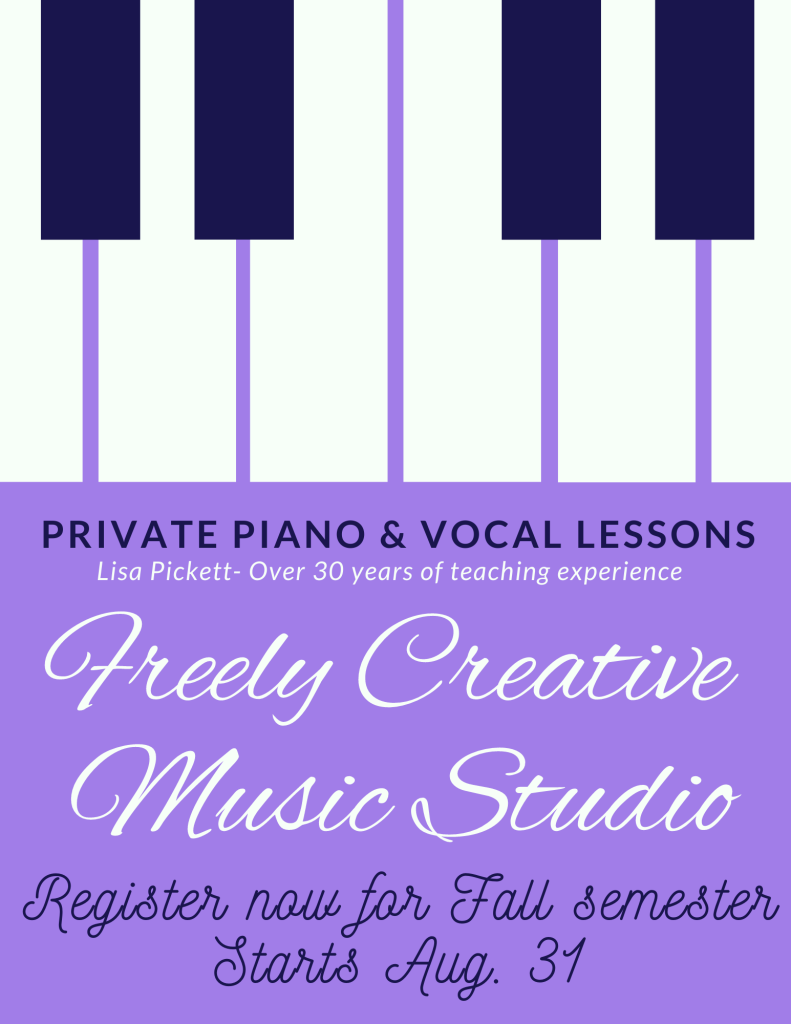 Welcome, to my current and future Music Students!
Freely Creative Music Studio offers Private Piano and Vocal (Singing) Instruction.
Learn a lifelong skill! Music instruction teaches so much more than Music! It creates brain pathways and opens your life to more joy, creativity, and personal fulfillment!
Most of all, Music is Fun!
Join me on this musical journey of life!
Over 30 years teaching experience.
Contact me to Schedule YOUR Lesson time! (If you personally know me, give me a call!)
In-person/local lessons only, at this time. If interested in online lessons, LMK.
---
View and Download Studio Pricing and Policies
View and Download 2022-2023 Lesson Calendar
---
About Freely Creative Music Studio — & Me!
Freely Creative Music Studio exists to minister to the whole person–body, soul, and spirit, by helping you develop your God-given gifts and interests in music, and confidence to express them. Your lessons here will help you develop skills that will last a lifetime. Music is not just a "hobby", but it is one that will bring you joy long after you are unable to do other hobbies. Music also helps develop your whole brain, exercising both sides and creating new pathways. Music is said to be the last thing lost, in people with dementia. It truly is a lifelong gift.
I believe everyone should have–and deserves–a good music education. The benefits to your whole self are so great. It enriches your life, lifelong. I am here to do my part in helping you achieve that.
Yes, I said "God-given" above. I believe He, our Creator, is the One that gives us our gifts, talents, and interests. I am a follower of Jesus the Christ, and that permeates my life. I do not push "Christianity" on my students. It is just who I am. Those that want a more integrated aspect of that in their lessons will get it. Those that don't, won't–just a kind, caring teacher, expecting the same curtesy. The only thing this means for you, is I don't utilize music with offense language. If me just being a Christian offends you, I'm probably not the right teacher for you. Yeah, I've lived long enough that I'm just upfront and transparent, so you know what you're getting. 🙂
— About Me
I started singing on stage when I was 3, and began piano lessons when I was 5. I have continued and have grown in both, enjoying them daily, throughout my entire life.
I was in National Piano Guild as a teen, and began teaching students over 30 years ago. I've continued my own learning as an adult, with various instructors, courses, symposiums, workshops, and at MPCC.
I've sung individually and in various groups throughout my life, for concerts, special events, weddings, funerals, recitals, school, church, and as a worship leader for 25 years. I've directed children's programs, church programs, and choirs. I've been classically trained vocally by several excellent teachers, and completed my music instruction for a Fine Arts degree in Vocal Performance.