Are you in need of a little soul care today? Join me on this creative journey! This beautiful, yet quick, project will be easy and enjoyable to make, and will provide you a useful little folio, for adding notes, memories or other information to.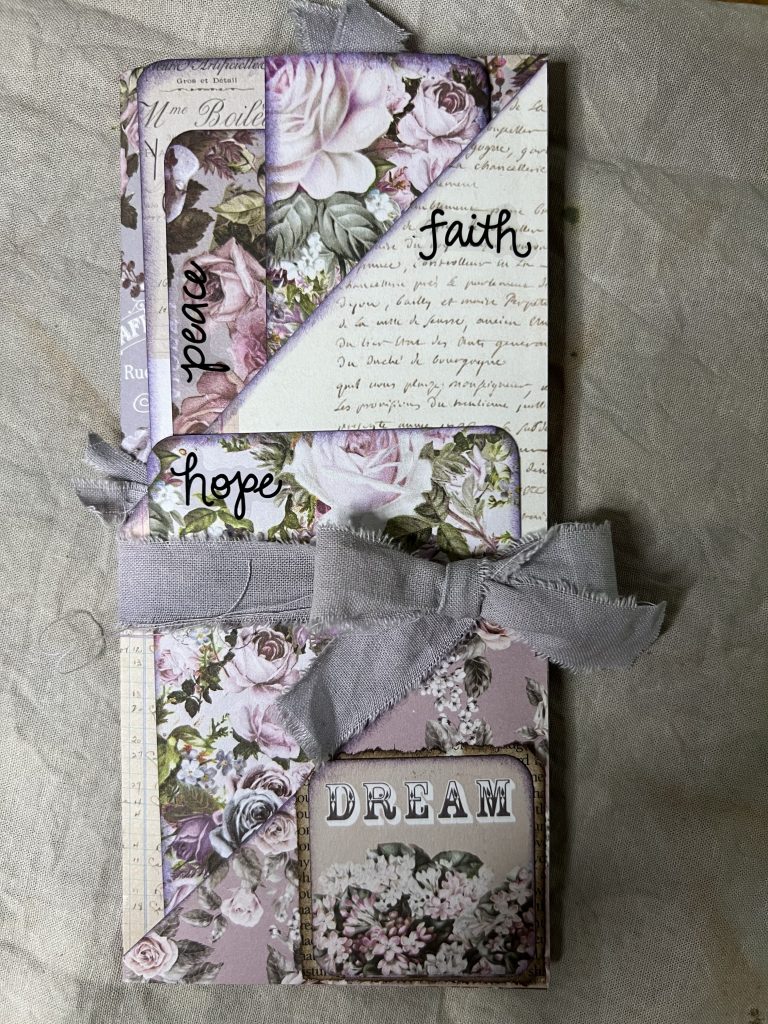 Today's project, a Tri-fold Pocket Folio, was inspired by Linda Israel. In addition to the 2 front slant pockets and pocket insert that Linda did, I included more pockets and tags, as well as a notepad, inside.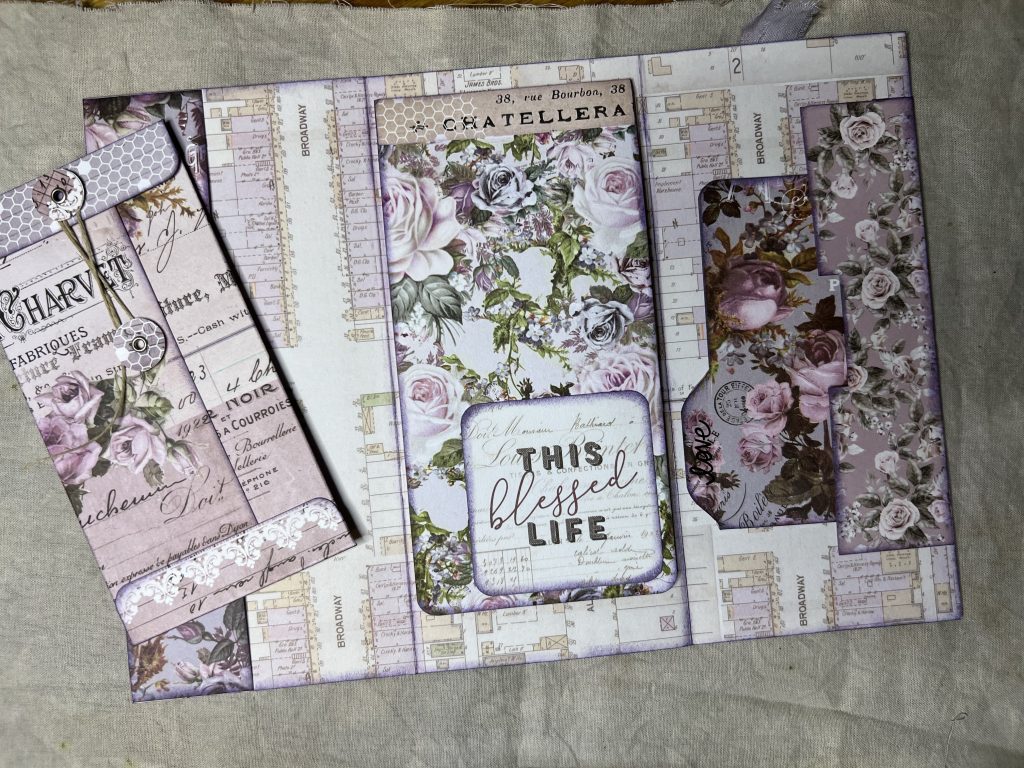 This folio can be used inside your artisan/eclectic/ junk journal, or as a stand alone folio.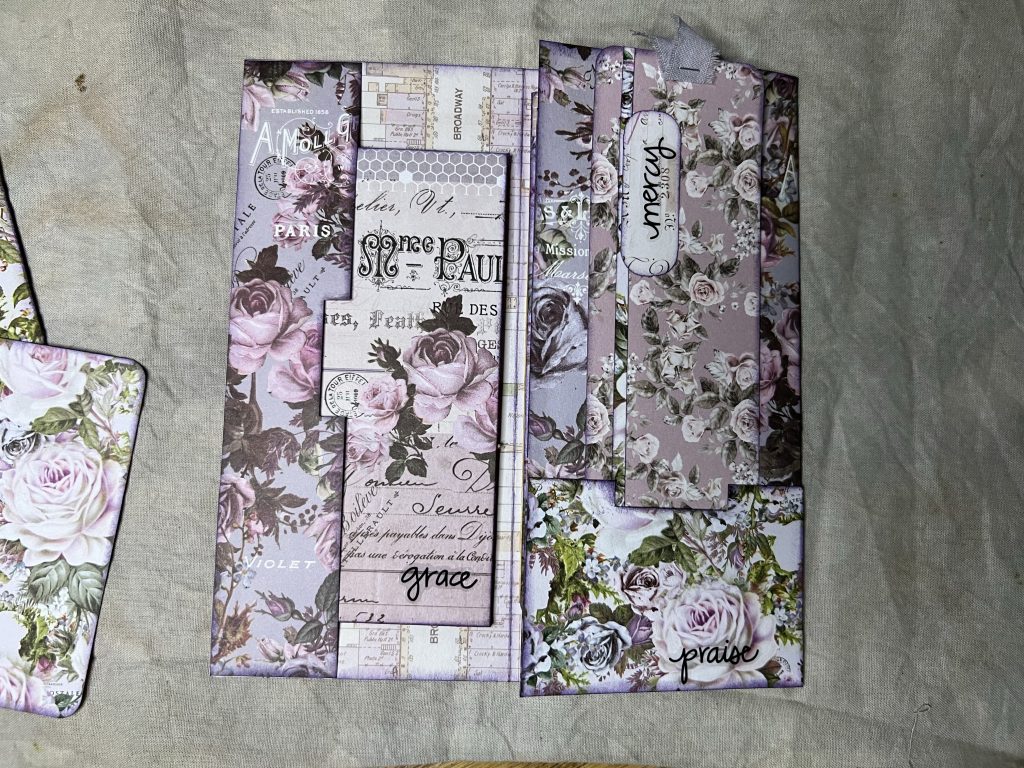 Supplies needed:
2-3 patterned papers, (I used 12×12 double-sided patterned cardstock—Prima: "Lavender")
Paper trimmer, or scissors and ruler
Scoreboard (or alternative*)
Glue or 1/8" double-sided tape—Distress Collage Medium
Optional: Distress Ink and Blending tool
Optional: Square or circle punch
Optional: Sewing machine
Grab your supplies, and let's create!
Watch the video tutorial!
Written Instructions:
Cut and Score:
Base: 10.5"wide x 7.5"tall. Score at 3.5", 7". Trim left edge slightly.
Angled pockets: 3.5"wide x 7.5"tall. Mark half-way point on side (left or right). Cut from opposite top corner to that midway mark.
Insert: 4.5"wide x 7"tall. Score at either 1.5" or 3", depending on which way you want your pocket to face.
Ink edges, if desired. Cut notch in insert pocket if desired.
Optional, sew along pocket edges.
Adhere or sew pockets onto base, and the insert pocket fold-over.
I also added inside pockets.
Inside flip: Bottom pocket, 3.5"wide x 2.5"tall, with notch.
Left side: Side pocket, 1.5"wide x 7.5"tall, with notch.
Right side: Side pocket, 1.5"wide x 5.5"tall, with notch.
I added journal cards/tags (cut to fit) to the outside and inner flap pockets, and a Coin Envelope* and Mini File Folder* to the inside side pockets. I also created and adhered a Notepad* for the center inner panel. *Watch for future tutorials.
I couldn't bear to cover up much of the beautiful papers, so I just used clear stickers, cut outs from the paper pad, and ink dyed fabric strips to decorate.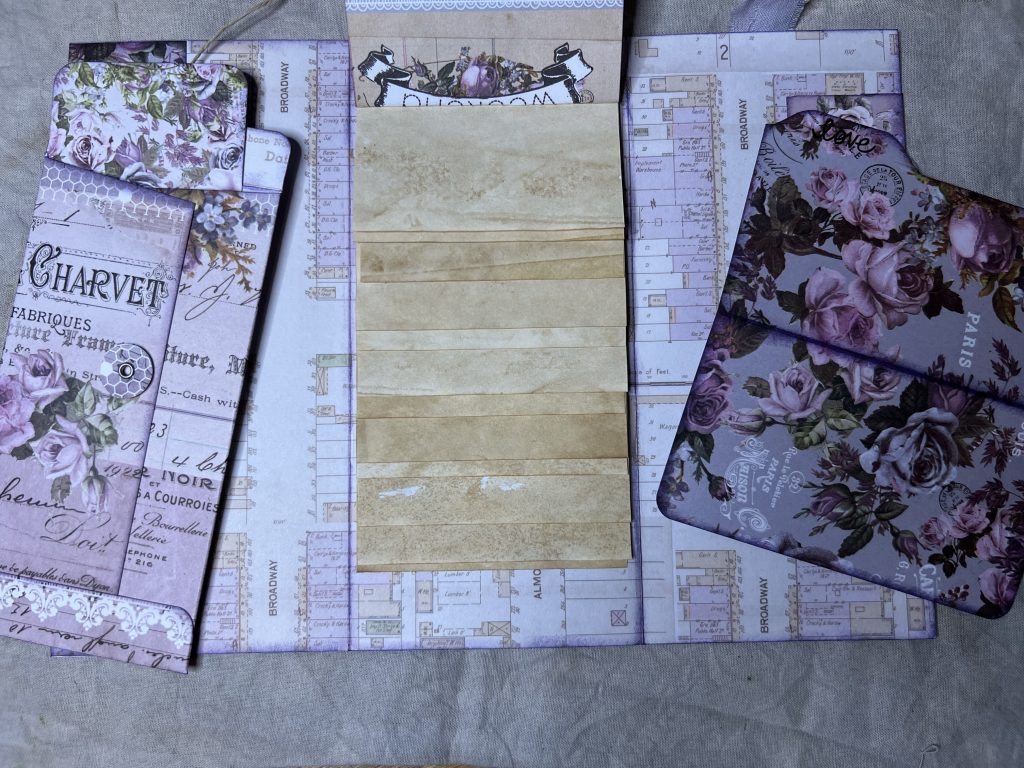 So go make Beauty from Ashes! Every day. And enJOY!
Share your makes with our Creative Communities. (Links below.)
Like this folio? See others here. Be sure to Subscribe, to be notified when I post the tutorials for those folios, more creative soul care, and other Beauty from Ashes articles.
Living Coram Deo & freely whole
SDG!
~ Liberty
Please consider supporting Freely Whole ministries. Your support helps me to continue to provide Soul Healing content, to empower you and others to live a life that is Freely Whole–in Jesus!
Subscribe to my email list in the sidebar and get notifications of future posts on this website.
Join me on Facebook, Like & Follow my Freely Whole public page.
To share Soul Care Creativity, join my Freely Whole Creative Community at MeWe or Facebook,
and Follow @FreelyWhole on Instagram and hashtag your creations #freelywholecreative