YHWH Yireh, My God will Provide!
Often, this is the hardest promise of God for many to believe. His failure to provide is many times the greatest fear of DV survivors. It keeps them stuck in the destructive situation, when they need to get out for safety and healing. Others aren't immune to these fears either. Even for those that this isn't a fear, it is still to be the prayer of all of us, "Give us this day our daily bread." In Proverbs 30:8, Agur declared to Ithiel and Ucal his request of God, "Give me neither poverty nor riches—Feed me with the food allotted to me…"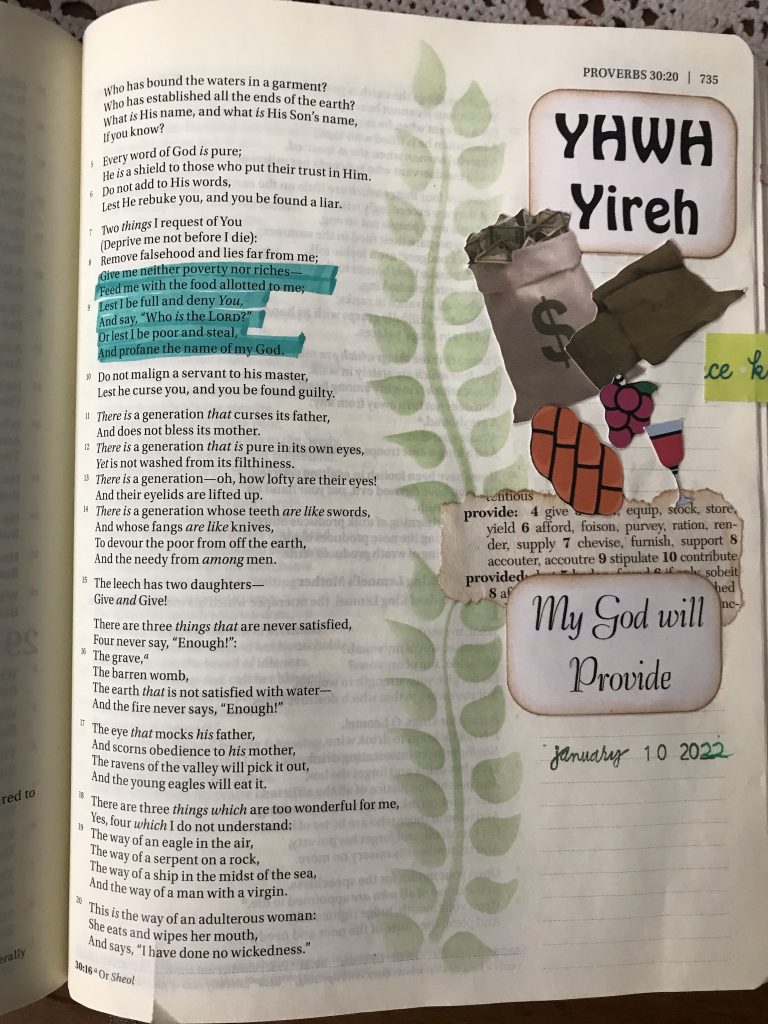 Join me for easy mixed media Bible Journaling of this passage. Get some inspiration, create your own design and style for this verse. Gather your supplies and get started.
For my process today, I chose to use stenciling, a portion of an old dictionary page, and words and images I printed from my computer. I then cut out the images with my Brother Scan 'n Cut.
Stencil (vines): DYLUSIONS Border It
Ink (through stencil): Rustic Wilderness Distress Oxide (applied with blending brush)
Word papers edged with: Vintage Photo Distress Ink
Words and images glued on with: Distress Collage Medium
Date stamp: Heidi Swapp
Verse highlighting: I'm not happy with (highlighter). I wish I had used Distress Ink blended or "wash painted" on.
Bible: NKJV Journal the Word
We want to see what you do! Join my groups and Share a picture of your Proverbs 30:8 page on our Freely Whole Creative Community at MeWe or Facebook or follow me on Instagram, and tag me #freelywhole
Now, go get creative and make make Beauty from Ashes!
Living Coram Deo
SDG!
~ Liberty
Subscribe to my email list in the sidebar and get notifications of future posts on this website.
Join me on Facebook, Like & Follow my Freely Whole public page.
To share Soul Care Creativity, join my Freely Whole Creative Community at MeWe or Facebook,
and Follow FreelyWhole on Instagram and tag me in your creations #freelywhole