Does your life look like what you planned?
Perhaps you planned to have 3 kids. But only 1 came along. Perhaps you planned to be married for life. But you're divorced after decades of trying. Perhaps you planned to be retired by now. Or married by now. Perhaps you planned to be president of your own company.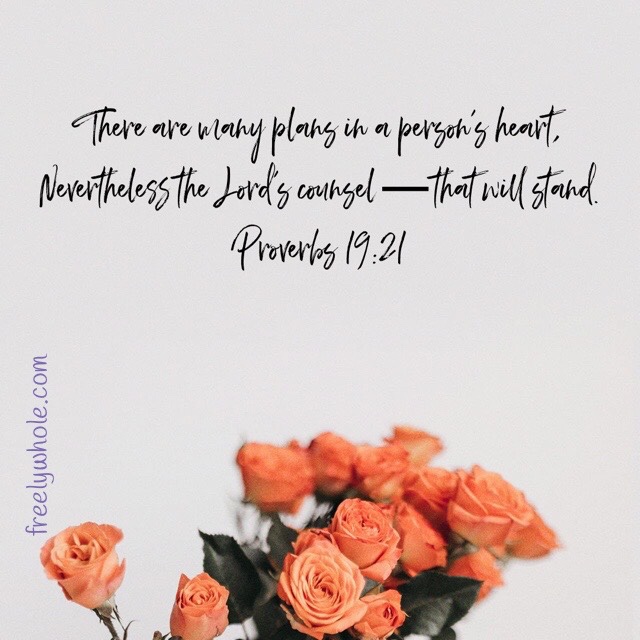 Do you see loss? Or gain?
Do you trust the Lord's direction? Or do you become bitter that your own agenda isn't going how you planned? Do you trust His timing? That perhaps the plans weren't way off base, but just not yet? Do you trust that He has a better plan than yours—even when it doesn't look so?
Do you trust that He sees the end from the beginning? And He truly knows best? And that He loves you and cares for you? And that He will lead you to "paths of green pastures", even if you have to "walk through the valley of the shadow of death" to get there?
Verse 23: "The fear of the Lord leads to life, And he who has it will abide in satisfaction; He will not be visited with evil."
Abide in satisfaction. In Him. ❤️
Living Coram Deo
SDG!
~ Liberty
Subscribe in the sidebar to get future posts made on this website.
On social media, you can: Join me on Facebook, Like & Follow my Freely Whole public page. Follow me on MeWe.

To share Soul Care Creativity, join my Freely Whole Creative Community at MeWe or Facebook,
and Follow FreelyWhole on Instagram and tag me in your creations #freelywhole