It's Fun Play Friday! But any day can be a Fun Play Day! On Fun Play Days, I have no project in mind. No thinking through. I just want to create and don't know what. My mind is most likely going a million miles an hour in several directions, and I just need some Happy Place time for Soul Care. So I grab some supplies, sit down, and see what happens.
Like a child sitting down to play "art", with an assortment of supplies before them, I just grab and do. I think I'll try this! What would this look like? Not caring about the end result, just the Play. The Journey!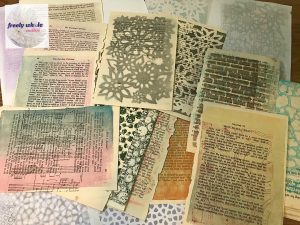 Today's Fun Play started with:
Book Pages,
Gel Plate and Brayers,
Stencils and Embossing Folders,
Distress Oxide Inks, and
A few household items as Texture Tools/Mark Makers
I ended up bringing in a few Acrylic Paints, also.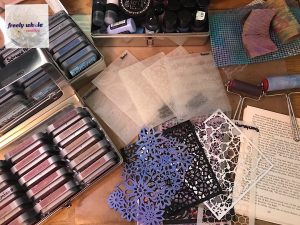 Although I don't set out necessarily trying to learn anything from Fun Play, I do make discoveries. I discovered that 1) many of my beloved oxide inks don't show up well on old, yellowed book pages. Even ones that do great Gel Printed through stencils onto plain white paper. 2) Embossing Folders work great to transfer inked patterns on a gel plate or just by themselves (not embossing.)
Having this Fun Play has sparked other ideas I want to try. I also plan to post a video of using my Embossing Folders this way. There are many videos available for Gel Printing with stencils, but I've not seen one with Embossing Folders. It's always great to find new ways to use our supplies!
Have you tried Gel Printing on Book Pages? Have you tried Gel Printing with Oxide Inks? Have you tried using Embossing Folders to transfer ink (without embossing) either with or without a Gel Plate? We want to see them!
Subscribe and comment here. And, Join one of my Creative Communities and share your pics there: Freely Whole Creative Community at MeWe or Facebook. Also, Follow me on Instagram @freelywhole and use hashtag #freelywholecreative on your creations
#freelywhole #freelywholecreative #soulcare #GelPrinting #bookpages
Living Coram Deo & freely whole
SDG!
~ Liberty
Subscribe to my email list in the sidebar and get notifications of future posts on this website.
Join me on Facebook, Like & Follow my Freely Whole public page.
To share Soul Care Creativity, join my Freely Whole Creative Community at MeWe or Facebook,
and Follow FreelyWhole on Instagram and tag me in your creations #freelywhole