After I had some non-thinking Fun Play yesterday, my mind turned back on and I moved forward to the next step, and the key to getting prints I really like, that would be usable for pockets and other "pretty page" items. (Of course the others will still be used, for collaging and such.)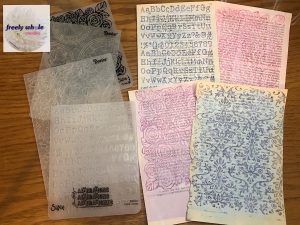 The obvious answer needed is adding Gesso to the page, to knock the words back a bit, before Gel Printing. This truly proved to be the secret sauce. An added step, requiring dry time, but it produced not just play time but also pretty and highly usable pages.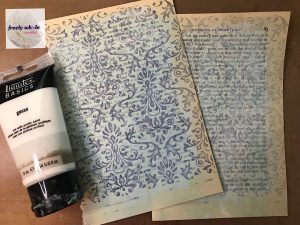 This post is a continuation from yesterday's. So go grab your supplies, listed in yesterday's post. Plus White Gesso. Then join me on the journey, and let's create!
Recap, steps from the video:
Gesso book pages, to knock back the words. Let dry.
Ink Gel Plate with the lighter color of Distress Oxide Ink, with a Brayer.
Optionally, add texture marks in the ink.
Pull the print (onto the book page.)
Clean Gel Plate and Brayer.

You can try, re-rolling with Brayer and pulling a second/ghost print first.
If you're just using a darker shade of the same basic color for the embossing folder, you can wait to clean plate until after pulling the embossing folder print.)

Ink the back side of the Embossing Folder, with the darker ink.
Press inked folder onto the Gel Plate.
Pull print.
You can probably pull a second print with a sheet of white paper.
Clean folder and gel plate.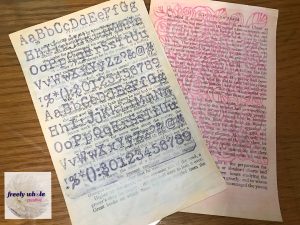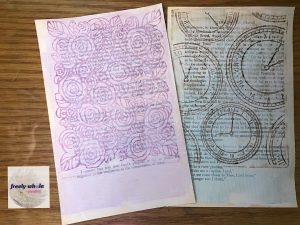 We want to see your creations! Share your Embossing Folder Gel Prints on Book Pages with us here or on my social media groups.
Subscribe and comment here. And, Join one of my Creative Communities and share your pics there: Freely Whole Creative Community at MeWe or Facebook. Also, Follow me on Instagram @freelywhole and use hashtag #freelywholecreative on your creations
#freelywhole #freelywholecreative #soulcare #bookpages #gelprinting #embossingfolder
Living Coram Deo & freely whole
SDG!
~ Liberty
Subscribe to my email list in the sidebar and get notifications of future posts on this website.
Join me on Facebook, Like & Follow my Freely Whole public page.
To share Soul Care Creativity, join my Freely Whole Creative Community at MeWe or Facebook,
and Follow FreelyWhole on Instagram and tag me in your creations #freelywhole