If you know me, you know I love learning and studying new things. I've been working on and studying something new, the past 9 months or so. It's an art therapy technique of sorts. It can be helpful in working through anxiety, stress, and trauma, as well as in brain rewiring and mindset change for growth in life in general. I love doing it, and it is a great tool for healing and growth. As all artistic therapies, it's all about the process and the healing work, not the finished "art" project.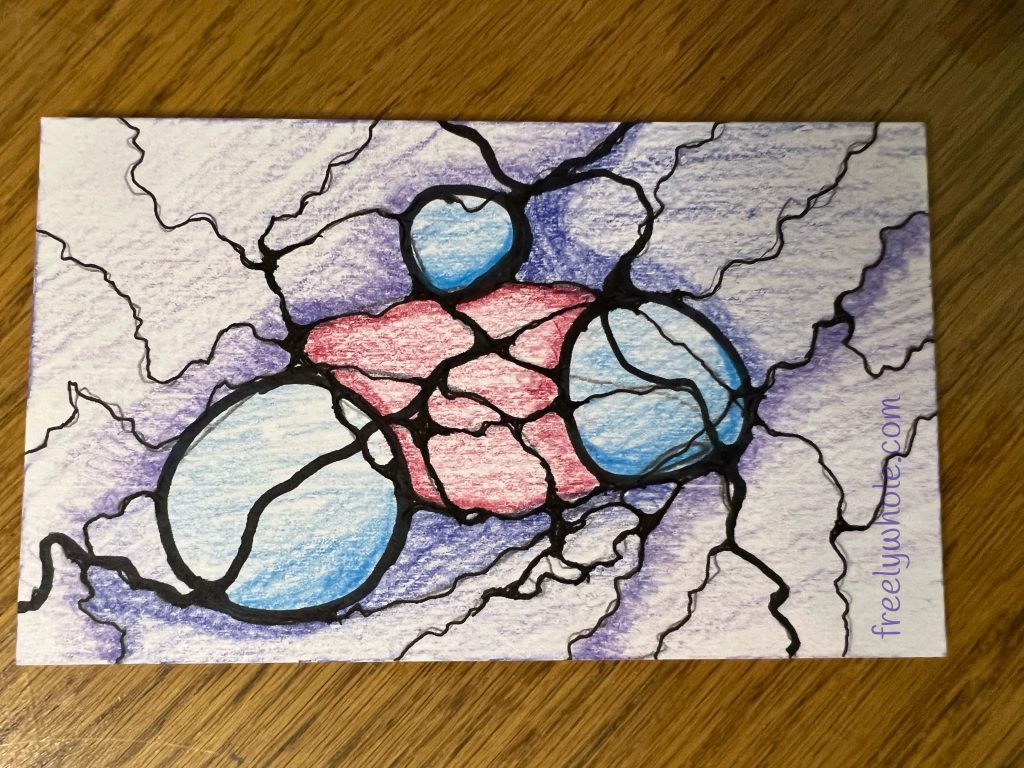 Neurographica™️ is a drawing technique based on neuroscience and activating brain pathways, for life change and growth. (My simple, non-scientific definition.) It was developed by a Russian psychologist in 2014 and is trademarked, though many of its premises and principals are known and used elsewhere. Neurographica is a specific type of Neurographic Art or NeuroArt. But not all Neurographic Art/NeuroArt is Neurographica. Instructions for Neurographica in English just began about one and a half years ago. I'm not "certified" in Neurographica, so my sharing is just my interpretation from my self-study and integrating it into my other knowledge and studies. If you want to get all the official details for Neurographica, go to their website and enroll in their paid certification courses, where you can learn not only the basics and foundations, but also other algorithms for other uses.
Now, onto my explorations into Neurographic Art, implementing principles from Neurographica. We'll walk through, step by step, creating an NG drawing to help you reduce stress/anxiety. (I'm not a Dr. or psychologist either, so I'm not diagnosing or prescribing or claiming "cures" either. Just sharing tools for self-help.)
Supplies needed: Simpler than simple. Paper, writing tool, coloring tools. That's it.
Plain copy paper, a pencil, and colored pencils work great, perhaps adding a marker (black sharpie.) Start with these.

Other options: cardstock, mixed media card, index card, stickie note.
Pen, such as Signo; fine marker, such as Micron or Sharpie.
PrismaColor Premier are my favorite colored pencils, but Crayola colored pencils or even crayons work (and I need to replace my PrismaColors that disappeared.)
For bolder lines after coloring, you may like brush markers, such as Faber-Castell Pitt pens.
Experiment with these other options after you get the hang of it.
Paint and Watercolors aren't used in Neurographica.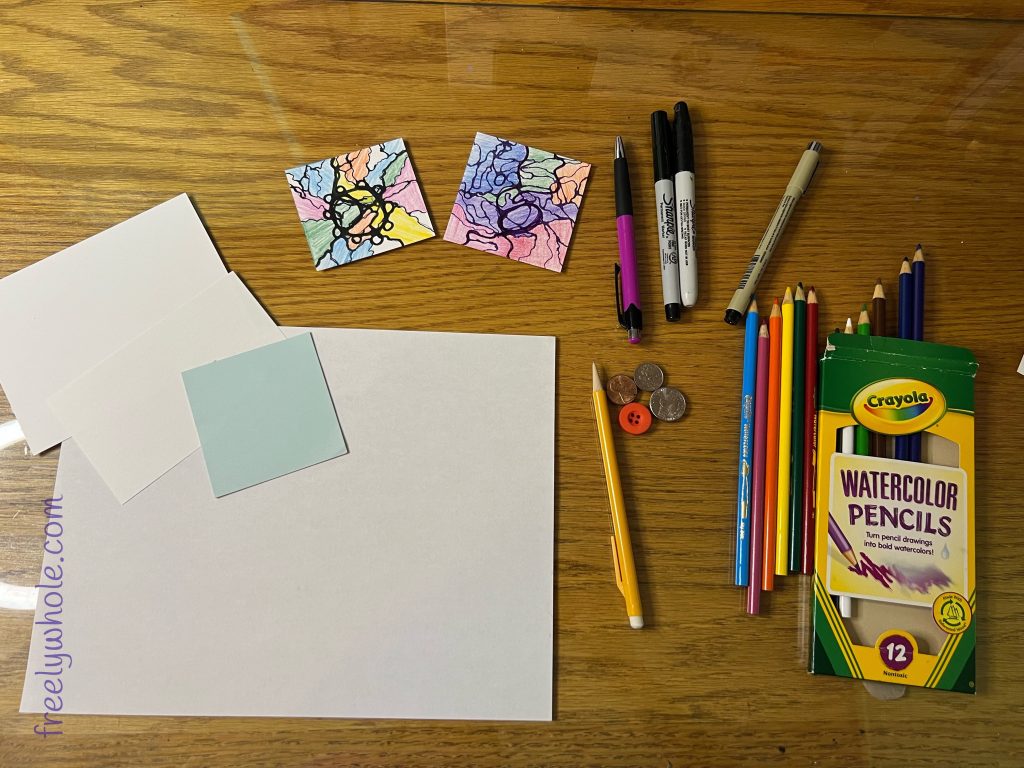 I'll be making an Express NG drawing, which is a great way to start. It's a small version, that only takes about 30 minutes. A blank index card or stickie note is great for this, but if you don't have either, use copy paper, perhaps only 1/4 sheet to make this an Express drawing, for an easier start.
Grab your supplies and I'll be back with the steps.
Living Coram Deo & freely whole
SDG!
~ Liberty
Please consider supporting Freely Whole ministries. Your support helps me to continue to provide Soul Healing content, to empower you and others to live a life that is Freely Whole–in Jesus!
Subscribe to my email list in the sidebar and get notifications of future posts on this website.
Join me on Facebook, Like & Follow my Freely Whole public page.
To share Soul Care Creativity, join my Freely Whole Creative Community at MeWe or Facebook,
and Follow @FreelyWhole on Instagram and hashtag your creations #freelywholecreative