I've got yet another style of "pocket" tutorial for you today! I think I could do a different style every week for a year—actually much longer, and still not run out of fun and unique ideas.
In this project, we're going to create several gusseted pockets, and put them together, accordion style, in a Matchbook Folio. These are reminiscent of accordion files to me—only miniaturized! And so much cuter!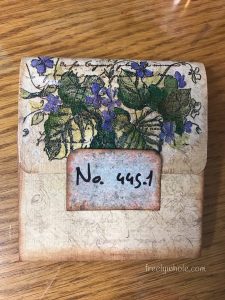 These folios are great for organizing small ephemera, snippets, tags, or paper scraps, or for filling with those things or other goodies to give to others.
I used book pages for my pockets, and love the look. But, use whatever types of paper you want and decorate as you please, to make your own unique Matchbook Folios.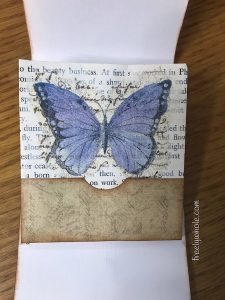 Gather you supplies, and create along with me.
Supplies needed, are so few and simple:
4 book pages – 5.25"x8.5" each to make the same size I show
Patterned cardstock strip – 3.5"x9.5-10"
Paper trimmer & Scissors
Scoring board (or alternative)
Adhesives – I used Distress Collage Medium (and optional, ScorTape)
A small piece of cardstock or ephemera, for the closure
Optional: corner rounder
Optional: 1" circle punch to make a "thumb notch."
Optional: Distress Ink (Vintage Photo) and blending tool
Optional decorative elements: I used a napkin, gesso/ collage medium and silicone brush, and water brush.
Now, let's jump right in and make some beauty from ashes! Here's the video tutorial.
My inspiration for this project came from Linda Israel's April 2022 Challenge. Check out her blog or YouTube channel to see her take on it. She used collaged gel prints for her cover.
Now, go make Beauty from Ashes! Every day. And enJOY!
We want to see your Matchbook Folio. Subscribe and comment here. Join one of my Creative Communities a share pics there: Freely Whole Creative Community at MeWe or Facebook, or follow me on Instagram @freelywhole and use hashtag #freelywholecreative on your creations.
Living Coram Deo & freely whole
SDG!
~ Liberty
Subscribe to my email list in the sidebar and get notifications of future posts on this website.
Join me on Facebook, Like & Follow my Freely Whole public page.
To share Soul Care Creativity, join my Freely Whole Creative Community at MeWe or Facebook,
and Follow @FreelyWhole on Instagram and hashtag your creations with #freelywholecreative