What do you do when you've got a painted background, created long ago, that's a hot mess? And a verse you also highlighted long ago that you still want to journal? You spend time in God's Word. You enter into God's peace and presence. You experiment. And you enjoy the process without worrying about the finished product.
Once upon a time, when I was splattering paint here and there, I threw this hot pink paint, sloppily, in the margin (and all over) here. Now was the time to go back and see if I could salvage it. Not to see if I could come up with a beautiful piece of artwork, but rather to see if I could experiment with a few things and come up with an entry representing my thoughts and expressions on this passage. While spending some time with my Jesus.
First I wanted to tone down the pink a bit. I used a "splatter" background stencil and some dried marigold and wild honey Distress paints.
I didn't have any elements in particular that I thought were highly representative of this verse, but these stamps were part of a set I hadn't used yet, and wanted to try. And, they were kind of giving me a "Judge" vibe. Stamping them with Archival Ink over the acrylic paint worked.
Then on to the wording. I had no word stamps for this. I didn't want the look of alpha stickers or stamps. I didn't want the time or work of cutting and applying alpha die cuts. I didn't want to print on paper, covering everything else.
That led to the experiment of printing on transparency film. Mine is decades old and made for copying machines. I knew that printing with my inkjet, probably wouldn't dry. So laser printer it was, and it worked!
The last step was to come up with a good way to adhere the transparency. I found a washi tape in my stash that I like with this, and adhered it to the page, on the 2 outside edges. The final touch is always adding the date.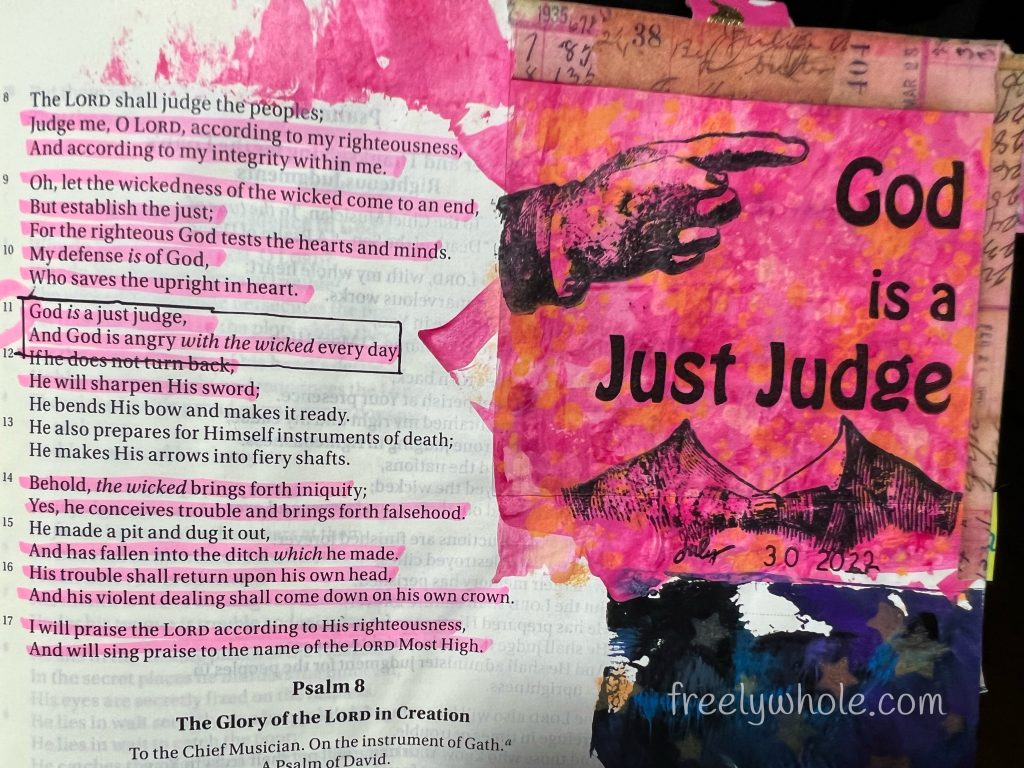 My goal was achieved. I spent some time in God's Word and meditating on it—the number 1 importance. I took some time to relax and quiet my soul—my secondary goal. The rest is just gravy, or more appealing to me, icing. I somewhat salvaged a hot pink, hot mess. I tried some new stamps I've been wanting to use. I experimented with a new technique. And it worked.
In mixed media Bible Journaling, like other soul care creativity, it's about the process, not the product.
Living Coram Deo & freely whole
SDG!
~ Liberty
Please consider supporting Freely Whole ministries. Your support helps me to continue to provide Soul Healing content, to empower you and others to live a life that is Freely Whole–in Jesus!
Subscribe to my email list in the sidebar and get notifications of future posts on this website.
Join me on Facebook, Like & Follow my Freely Whole public page.
To share Soul Care Creativity, join my Freely Whole Creative Community at MeWe or Facebook,
and Follow @FreelyWhole on Instagram and hashtag your creations #freelywholecreative