I've been sharing ThanksGiving #gratitude quotes every day this month. And as I continue to press into gratitude, I also walk through this chapter of the saga.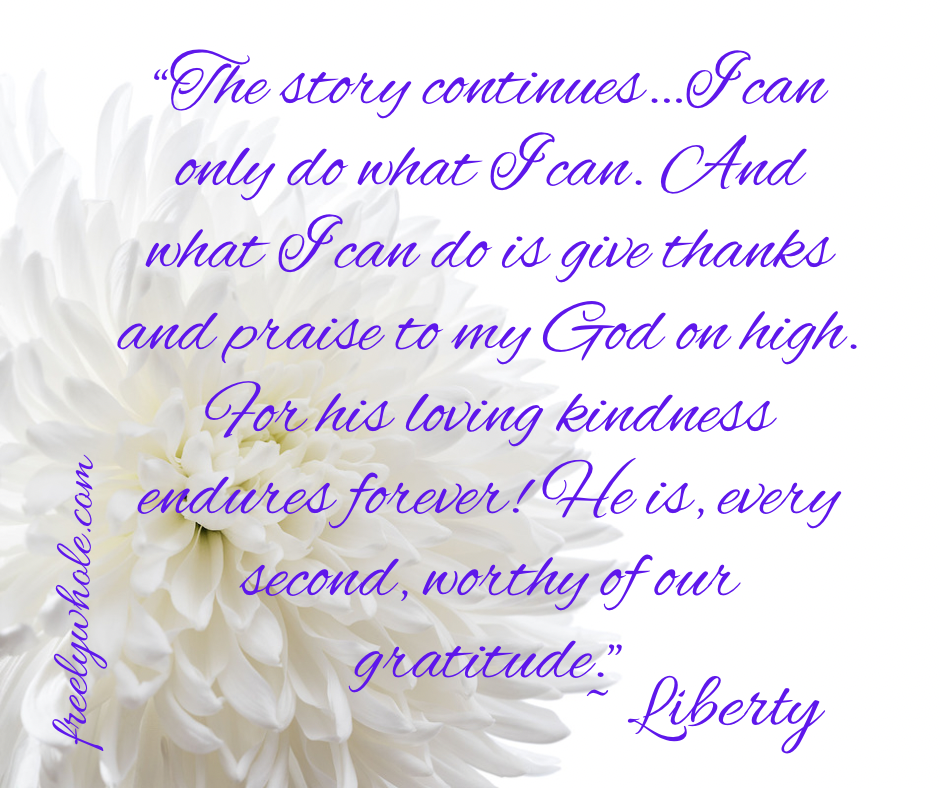 This week holds many Body Keeps the Score messages for me. Ones from previous years are healed, but scars don't disappear. The reminder is there. Just not the sting. Sometimes of sad things. Sometimes of fearful things. Thankfully happy ones are in the mix. Always of God's faithfulness. His strength. His love and care. Him getting me through.
When I'm feeling something churning inside, and it's not related to anything currently going on, or the thing currently happening isn't a big issue, I check the calendar. It's not even sadness or anxiety, just a feeling, a knowing. But this month, this WEEK, I don't even have to go back and look these dates up. They just are.
So many etched events from this week from the year I filed for divorce—and (that same year—same temp hearing day) my mom died. Many as well from last year. Not all bad, but all significant. In amongst the deaths — literal and figurative, there are plays and recitals and time with family/grands. As well as big family ThanksGiving dinners and time together.
This week last year, I took my dad to ER, one day before the day I took him this year. My 5th daughter's MIL died yesterday last year. My step-dad's funeral was today last year. There was also that same daughter's studio recital—busy, exhausting but fun. She's owner/instructor of a large studio. I help out, with the grands and as go-fer.
Today, I'm wondering when my dad is being released from the hospital. How I'm going to get his stuff packed for him to move to out of town care facility. (Still hoping I don't have to do it today, or before Thanksgiving. I haven't even heard back if they've found placement for him yet.) I dread going to see him today, after they've given him the news. I wonder about all his scheduled various Drs appointments next week, with all these new developments. His end of year financials and insurance decisions that need addressed.
All these things go through my mind. Not in worry, as that accomplishes nothing. But rather in logistics. Planning how to schedule and accomplish all that must be done in the next few days. And knowing that spending the necessary time with dad will be emotionally exhausting, and will deplete any energy I have to accomplish my ThanksGiving prep, (and to be the best teacher I can for my students tomorrow, and best performer I can be for my teacher today.)
But time ever marches on. The story continues. I say my newly coined phrase from during the divorce. "Oh well!" I can only do what I can. And what I can do is give thanks and praise to my God on high. For His loving kindness endures forever! He is, every second, worthy of our gratitude.
Living Coram Deo & freely whole
SDG!
~ Liberty
Subscribe to my email list in the sidebar and get notifications of future posts on this website.
Please consider supporting Freely Whole ministries. Your support helps me to continue to provide Soul Healing content, to empower you and others to live a life that is Freely Whole–in Jesus!
Join me on Facebook, Like & Follow my Freely Whole public page.
To share Soul Care Creativity, join my Freely Whole Creative Community at MeWe or Facebook,
and Follow @FreelyWhole on Instagram and hashtag your creations #freelywholecreative