One of today's creative projects. I'm working on a few.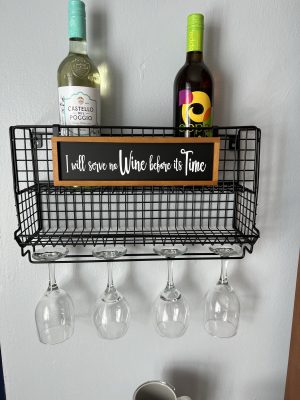 I rarely have a glass, but I got this wine rack to review, and it matches other black metal pieces in my dining room. I had the perfect spot for it, above my "tea"/ beverage bar. One of my sons hung it for me today, and I wanted to add an appropriate saying. i.e. appropriate for a rare drinker, but who also believes an occasional glass of wine is better #selfcare than toxic pharmaceuticals.
I designed and cut this saying on my Cricut. And love how this turned out. ❤️
I will serve no Wine before it's Time
The wine bottles had much dust on them. I'd bought them for a previous holiday, when several adults were here, and they didn't even get opened. Perhaps for Thanksgiving. Perhaps not.
But it's cute decor—in the appropriate context. 😊 I in no way condone drunkenness or alcohol addiction.
Living Coram Deo & freely whole
SDG!
~ Liberty
Subscribe to my email list in the sidebar and get notifications of future posts on this website.
Join me on Facebook, Like & Follow my Freely Whole public page.
To share Soul Care Creativity, join my Freely Whole Creative Community at MeWe or Facebook,
and Follow @FreelyWhole on Instagram and hashtag your creations #freelywholecreative
Please consider supporting Freely Whole ministries. Your support helps me to continue to provide Soul Healing content, to empower you and others to live a life that is Freely Whole–in Jesus!